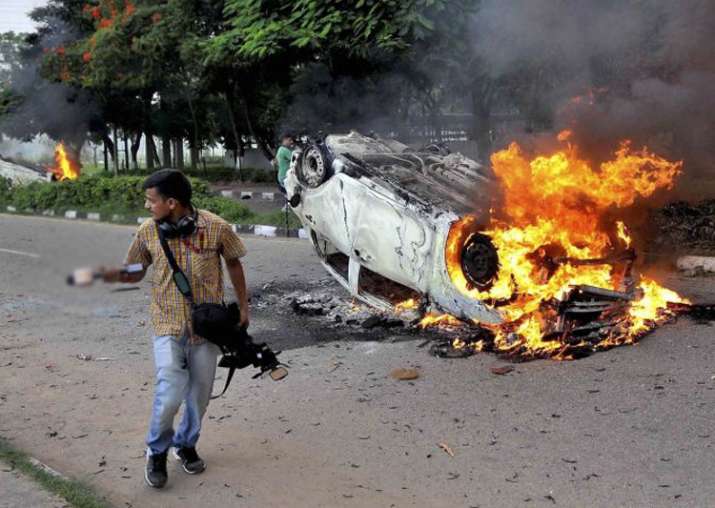 New Delhi: Responding to demands for his resignation over the violence that broke out after the Ram Rahim judgement last week that claimed 38 lives, Haryana Chief Minister Manohar Lal Khattar on Wednesday rejected the Opposition's criticism of his handling of the situation and said that his government had done its work well.
Khattar was speaking to media persons after a meeting with Bharatiya Janata Party president Amit Shah in New Delhi where he also submitted a report of the government's handling of the situation to the party president. Khattar said that his government complied with the Punjab and Haryana High Court's order. 
"Whosoever is asking for my resignation, let them ask. We did our work well," said Khattar. 
"Minimum loss and following the court's order was our target. The situation is under control now," he added. 
When saked about reports of two MLAs going with Ram Rahim in the van, Khattar said, "None of our MLAs went with Baba". 
The BJP governments in the state and at the Centre have come under heavy criticism for mishandling the situation by the Punjab and Haryana High Court, which came down heavily of the ruling dispensation for allowing the situation to aggravate the situation.   
On reports of Ram Rahim's adopted daughter Honeypreet Singh accompanying him to prison, Khattar said, "Honeypreet Insan appealed CBI Court that she be allowed in Court and also inside jail as helper but jail authorities didn't allow (her to do so)". 
Meanwhile, the Punjab and Haryana High Court has directed the two states to submit a list of Ram Rahim's properties and assets by Tuesday, which will be attached and used to compensate loss of life and property during the violence. 
Ram Rahim was convicted of raping two women by a CBI court on August 25 and sentenced to 20 years of imprisonment (10 years each in two cases) on Monday. The special CBI court that pronounced the sentence from a makeshift court in Rohtak jail said Dera chief acted like a "wild beast" who did not even spare his own "pious" female disciples. 
The Dera chief, who pleaded for leniency before the court, broke down after the judge pronounced the quantum of sentence. The court, however, said that he committed breach of gravest nature by sexually assaulting "such gullible and blind followers" and that he did not deserve any leniency.