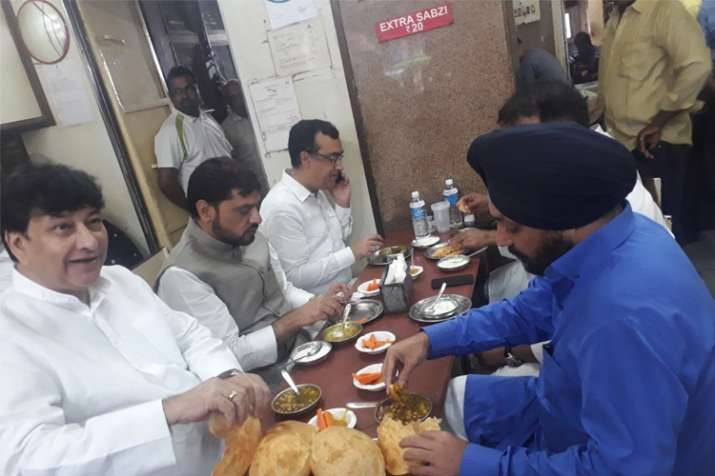 While Congress workers are holding a day-long fast against the BJP and to "promote communal harmony and peace", BJP leader Harish Khurana claimed that Congress leaders, including Arvinder Singh Lovely were seen eating at a restaurant earlier in the day before sitting on hunger strike at Rajghat, reported news agency ANI.
Khurana tweeted a photo which shows Congress leaders A S Lovely, Haroon Yusuf and Ajay Maken eating at a restaurant along with others, claiming that the picture was taken just before the leaders sitting on hunger strike at the Rajghat.
"Congress leaders have called people to join hunger strike at Rajghat, and they are themselves enjoying chhole bhature at a restaurant. They are making fool," he wrote along with the photograph.
वहाँ रे हमारे कांग्रिस के नेता,लोगों को राज घाट पर अनशन के लिए बुलाया है और ख़ुद एक रेस्तराँ में बैठ कर छोले भटूरे के मज़े ले रहे हो ।
सही बेफ़क़ूफ बनाते हो । pic.twitter.com/gp2pIYsdOb

— Harish Khurana (@HarishKhuranna) April 9, 2018
Reacting on the same, Lovely said that the photograph was taken before 8 am, adding that it was a symbolic fast from 10:30 am to 04:30 pm, and not an indefinite hunger strike. 
"Photograph is of before 8 am, this is symbolic fast from 10.30 am to 4.30pm,it is not indefinite hunger strike.This is what is wrong with these (BJP) people,instead of properly running the country,they concentrate on what we eat," he said. 
In response, BJP's Harish Khurana challenged Congress leaders to deny the authenticity of the picture. 
"This picture of Congress leaders eating before fast reveals their double-standard. On one hand they are claiming to observe fast, on the other hand they are seen having food at a restaurant. The picture is authentic, let them deny it," Khurana said.
Led by party president Rahul Gandhi, Congress is today holding a pan-India "fast" to protest issues like the non-functioning of Parliament and the alleged "dilution" of the Scheduled Castes and the Scheduled Tribes (Prevention of Atrocities) Act.
Its workers will hold a day-long fast at their state and district headquarters to promote communal harmony and peace and to protest against the BJP government.
Watch video: Ajay Makan & other Congress leaders spotted eating at restaurant ahead of observing fast at Rajghat​