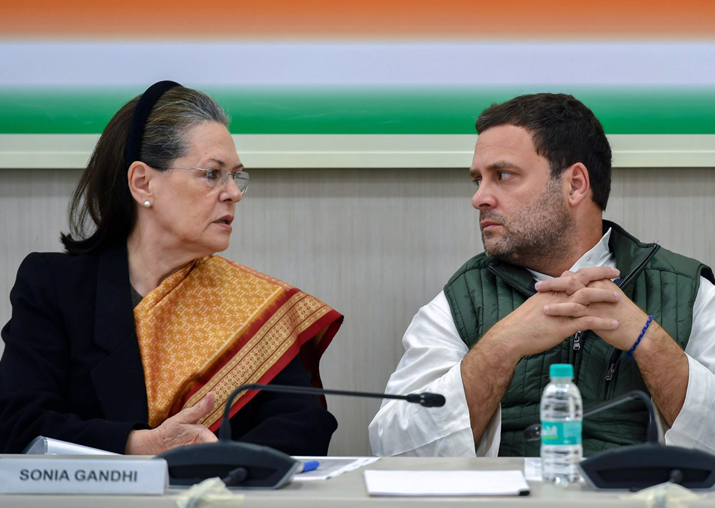 The Congress will hold its plenary session to discuss and evolve the party's future strategy in Delhi on March 16, 17 and 18, its chief spokesperson Randeep Singh Surjewala said today.
The dates were fixed at a meeting of the Steering Committee, which was formed after dissolving the Central Working Committee. Congress president Rahul Gandhi chaired the first meeting of the Steering Committee.
"The Congress plenary session will be held in Delhi on March 16, 17 and 18," said Surjewala.
Chairperson of the Congress Parliamentary Party, Sonia Gandhi, former prime minister Manmohan Singh and senior leaders including A K Antony, Ahmed Patel, Ghulam Nabi Azad and Mallikarjun Kharge attended the meeting.
Asked whether elections for the CWC will take place during the plenary session, Surjewala said whenever such a decision is taken, "we shall inform you".
He said that in the 133 years of the party's history, the elections to the CWC were held only five times. "Even Subhas Chandra Bose was given the authority to have a Congress Working Committee of his choice...," he said.
He said the Steering Committee principally met to decide the date of the plenary session, as also the ideological way forward and the policy focus of the Congress.
"I also assure you that we are the only party in the country on whose elections multiple questions and debates can happen. Has anybody heard ever an election being held for the post of president as far as Amit Shah or any other person in BJP is concerned. The answer perhaps would be no," he said, taking a dig at the ruling party.
Rahul Gandhi had dissolved the Congress Working Committee and formed the 34-member Steering Committee to work in its place till a new CWC was set up.
The party's plenary session will be attended by all AICC delegates who elected the new Congress chief.
While all outgoing CWC members are part of the new committee, some permanent invitees such as Amarinder Singh, Vilas Muttemwar, R K Dhawan, Shivajirao Deshmukh, M V Rajasekharan and Mohsina Kidwai, and all special invitees have been dropped from the new panel.
As per the party's Constitution, the 25-member CWC has 12 elected members and 11 nominated members, besides the Congress president and the chairperson of the Congress Parliamentary Party.
The new members of the CWC will be elected either at the plenary or after it.