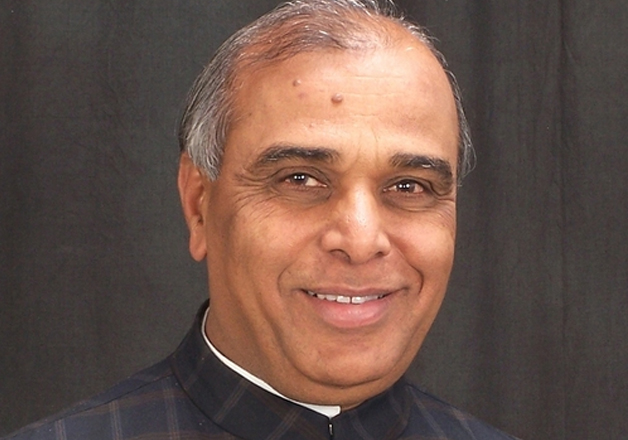 Senior BJP leader Jagdambika Pal today lashed out at the ruling Samajwadi Party in Uttar Pradesh for 'creating a hype since the past few days'. 
"This one family is not the state… their dispute should not affect the people. You sit together and resolve your issues," Pal said while speaking at the India TV's conclave Chunav Manch in Lucknow. 
"When you can't handle your own family problems, how can you rule the state?" he asked, referring to the rift within the Samajwadi Party that has hit the party just ahead of the assembly polls. 
"The damage can't be repaired," Pal, who quit Congress in 2014 and joined BJP, said. 
Samajwadi Party spokesperson Gaurav Bhatia, who was also present on the panel, however, said that there is no fight in the party and Netaji (Mulayam SIngh Yadav) has already made it clear that 'we are one family'. 
"No difference between Akhilesh and Mulayam. Everybody is Samajwadi in our party. When Mulayam said that the SP is one family, he referred to each and every worker, not only to few members of his own family." 
Bhatia also dared the BJP to declare its chief ministerial candidate for the upcoming polls. 
Lauding the development works done by CM Akhilesh Yadav, he said, "He (Akhilesh) has now become a face of development… he is a trustworthy leader. BJP has so far not declared its chief ministerial candidate. You can't fight election every time with one face. You have seen the result of Bihar."
He further chided Congress for declaring 'tainted leader' and former Delhi CM Sheila Dikshit as its face for the polls.
"She (Sheila) is a tainted leader and has no knowledge of ground happenings. She was summoned by ACB in water scam… Delhi has 70 seats and UP has 403," Bhatia said. 
"We will win by 326 seats this time and Akhilesh Yadav will come back as the CM," he added.
On the other hand, Congress leader and former Union minister Jitin Prasada lauded Sheila Dikhshit's works she carried out as CM of Delhi.
"Sheila has already contested election from UP. She is not an outsider. Delhi has completely transformed from what it was 15 years ago, this is because of Shiela Dixit's contributions," he said. 
When asked why Congress projected a Brahmin as its face in UP, he said, "What is wrong if she is a Brahmin? She has a very good experience of administration."
He also rubbished the reports suggesting Congress party was organising Brahmin sabha in the state.
On Rahul Gndhi's 'Khaat Sabha', he said, "Congress is out of power from last 27 years… today you are making fun of people when they runaway with khaat… this is the reality of state, they have got nothing."
To a question on Priyanka Gandhi's role in Uttar Pradesh, he said, "Priyankaji has so far limited herself till Rae Bareli and Amethi, but it doesn't mean that she is unaware about the ground reality of state. She will surely contribute in the success of party."
Attacking PM Narendra Modi, he said, "The BJP has already sidelined senior leaders like LK Advani and MM Joshi. PM Modi is not worried about what's happening in India. He has only promoted his personal image across the globe. Our international ties have worsened ever since Modi ji has come to power."
To this, Pal replied, "They (Advani and Joshi) are still in the Parliament and are heading vital parliamentary panels. Modi ji was the face of nation in 2014, he has become the face of the world today in 2016."
Making fun of Rahu's 'Khat Sabha', he said, "There is only one bachcha (kid) in Congress and everybody knows him. He is at present touring the state."
The Khaat Sabha of Rahul Gandhi is in news for the fate it has met with in the last two weeks. He has so far organised three Khaat Sabhas in the state where the gathering ran way with the cots after he ended his speech.