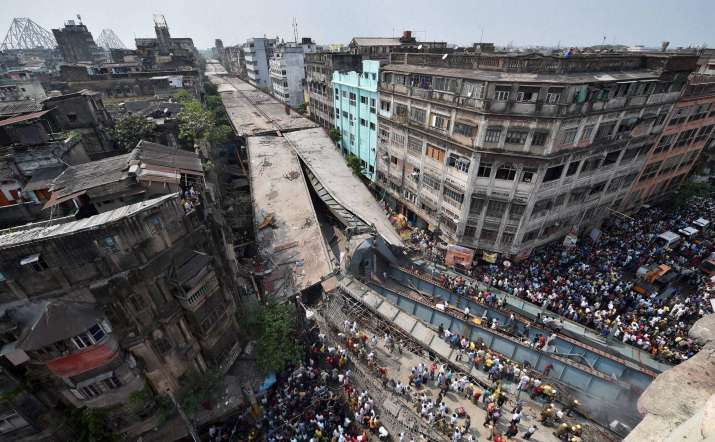 Kolkata: Thursday turned out to be a black day for Kolkata when a portion of an under-construction flyover collapsed in a busy area of north Kolkata, causing atleast 17 deaths and leaving more than 150 injured. 
The collapse occurred today afternoon at the busy Rabindra Sarani-KK Tagore Street crossing near the city's largest wholesale market of Burrabazar. 
Chief Minister Mamata Banerjee, whose centre-left party is seeking re-election in the state of West Bengal next month, rushed to the scene. "We will take every action to save lives of those trapped beneath the collapsed flyover. Rescue is our top priority," she said.  
State chief secretary Basudeb Banerjee announced compensation of Rs 5 lakh to the kin of each of the dead, Rs 3 lakh to those injured seriously and Rs 1 lakh to those less injured. 
The construction of the flyover started in December 2009 and was led by the Hyderabad-based IVRCL Construction company. The flyover was set to be one of Kolkata's longest, connecting Girish Park in north Kolkata to Howrah.
Meanwhile, a blame game erupted with the ruling Trinamool Congress blaming the previous Left Front government, which started construction of the flyover when it was in power, and the Left parties hitting back. 
Chief Minister Mamata Banerjee said,"The tender was passed in 2009 by the erstwhile Left Front government and was given to Hyderabad-based IVRCL Construction," adding that the company had not provided the government details of the construction plan despite several reminders. 

"Stringent action will be taken against officials of the construction company and others involved," the chief minister, who cut short her election campaign in West Midnapore district and rushed back to the city, said. 
Probes into the tragedy have been demanded by the opposition parties. BJP demanded a CBI inquiry into the collapse. 
"We feel that CBI inquiry should be initiated into the incident, in order to book the culprits. All the culprits, however big they may be, should be arrested. The state should request for a CBI inquiry. This incident is a clear case of rampant corruption regarding the construction of flyovers," Union minister Muqtar Abbas Naqvi said. 
Panduranga Rao, the constructor involved in the flyover's construction, claimed the collapse as merely "an act of God". 
IVRCL's director A.G.K. Murthy said that the cause behind the flyover collapse is not yet clear. 
"We did not use any inferior quality material and we will cooperate with the investigators. We are in a state of shock," Murthy told media in Hyderabad.  
(with PTI inputs)