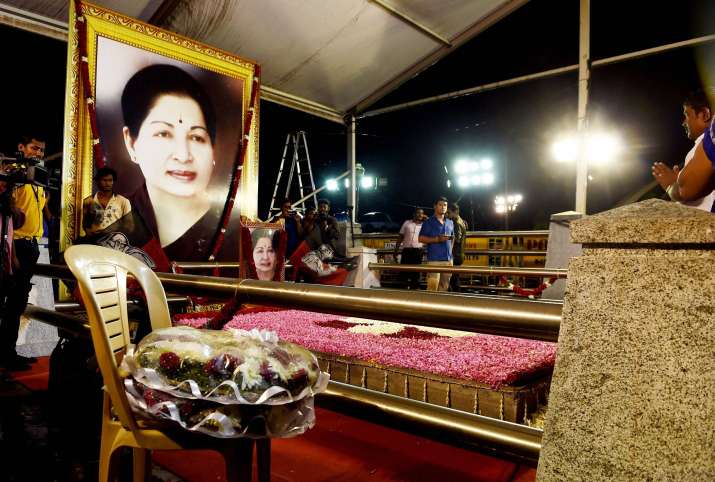 The much-awaited merger between the two factions of the AIADMK,  led by Chief Minister E Palaniswami (EPS faction) and former Chief Minister O Panneerselvam (OPS faction) respectively, did not fructify on Friday because of hurdles posed by "ticklish issues".
The marathon deliberations initiated on Friday for the merger of EPS-OPS camps  failed to make any headway as the two factions could not resolve their differences over certain crucial issues.
While rebel leader O Panneerselvam held consultations with his loyalists, Chief Minister E Palaniswami held marathon talks with his cabinet colleagues to resolve the deadlock.  
On expectation of a merger announcement at the Jayalalithaa mausoleum at Marina Beach late Friday evening, security was beefed up there, with several MLAs converging.  However, it soon became apparent that there were hurdles to the merger talks, with leaders of both factions starting to leave the venue. 
Party sources indicated that there were "some ticklish issues" that were to be addressed by both groups, but declined to elaborate further. 
With the talks getting prolonged due to "issues", the expectations for an announcement in this regard Friday night faded.  Jayalalithaa's burial complex had been decked up and the party office was brightly lit in the wake of expectations of the unification of the AIADMK factions.  Office bearers were seen holding garlands, apparently in anticipation of arrival of leaders of both camps.  The expected late night press meet by Panneerselvam was later deferred. 
The merger talks came days after side-lined AIADMK (Amma) leader T T V Dhinakaran held a well-attended rally at Madurai in which about 20 legislators and six MPs participated.  This was apparently aimed at charting his own journey and conversely seeking to run rough shod over the Palaniswami and Panneerselvam camps. 
Dhinakaran and his loyalists sought to showcase the meet as a show of strength and claimed that the party rank and file was largely with them. 
The process of merger of the two factions got accelerated after Palaniswami announced on Thursday a judicial inquiry into Jayalalithaa's death, after a prolonged illness, and the conversion of her Poes Garden residence here into a memorial.
Panneerselvam had laid three conditions for a merger: keeping out AIADMK General Secretary and the now jailed V.K. Sasikala and her family, ordering a judicial probe into Jayalalithaa's death and converting her home into a memorial.
The Palaniswami faction had only days ago declared the appointment ofT.T.V. Dinakaran, Sasikala's nephew, as Deputy General Secretary as "improper, unacceptable and invalid".
This was challenged by Dinakaran, who is said to have the support of around 20 legislators and who on Friday called on Sasikala in jail in Bengaluru.
If the AIADMK merges, the party will get back its popular "two leaves" symbol which has been frozen by the Election Commission.
The rebellion in the ruling AIADMK and factional feud began with a sudden late night meditation by Panneerselvam in February at the burial site of Jayalalithaa at the Marina Beach where he revolted against Sasikala.  
The former chief minister had said that he was forced to resign from his post and asserted that only a person desired by people and cadres should succeed him in the government and party. 
Panneerselvam was immediately sacked from his top party post of treasurer, marking the birth of a new rebel faction.  Subsequently, Sasikala named Palaniswami as Legislature Party Leader and she herself had to go to Bengaluru to serve a prison sentence following her conviction in the disproportionate assets case. 
Soon, Palaniswami took over as chief minister and his government was ridiculed as a proxy of Sasikala by rebel Panneerselvam, and Opposition parties led by the DMK. 
 
In April, in a political twist, Tamil Nadu Cabinet announced sidelining Sasikala and Dhinakaran and Palaniswami gradually emerged as leader of a faction of about 122 MLAs in the 234 member assembly. 
Palaniswami and his Cabinet colleagues took a stand against Dhinakaran in April for the first time after the RK Nagar bypoll was cancelled. 
They were also on the same page after Dhinarakan was named in a case of trying to bribe Election Commission officials. 
Further hardening the stand against Dhinakaran, an August 10 meeting chaired by Palaniswami said his appointment went against party bye-laws, setting the stage for a formal merger.  
Following it up, the government yesterday announced an inquiry into Jayalalithaa's death and declared that Amma's Poes Garden residence will be taken over and turned into a memorial. 
By conceding these key demands of the Panneerselvam camp, the process of unification got a fresh impetus and after several rounds of deliberations the merger came through.
(With agency inputs)