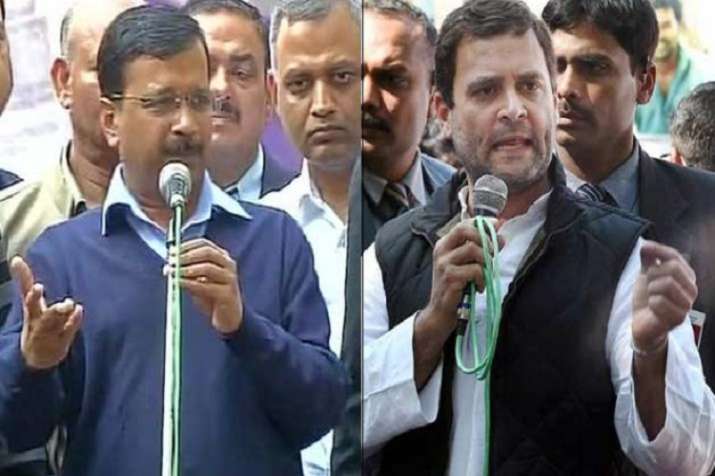 Buoyed by the success in the recently held Assembly elections in Karnataka where it joined hands with Janata Dal (Secular) to form the government despite the BJP emerging as the single largest party, the Congress is now said to be working on the possibility of an alliance with the Aam Aadmi Party (AAP) for the 2019 Lok Sabha elections.
If sources are to be believed, Congress wants to stitch a Bihar-like Grand Alliance or Mahagathbandhan against the BJP. The party has already started 'informal' talks with AAP. Congress leaders Jairam Ramesh and Ajay Maken reportedly met AAP representatives to take forward the idea of an anti-BJP front. 
However, it is still not clear whether Congress president Rahul Gandhi has given a green signal to the party to work on the alliance.
Sources said that the AAP offered the Congress a 5:2 ratio for seat sharing in Delhi - five seats for the AAP and two for the Congress. However, the Congress is insisting three out of the seven Lok Sabha seats in Delhi.
The speculations about the rumoured alliance got a further boost after Delhi Chief Minister Arvind Kejriwal recently praised former Prime Minister Manmohan Singh on Twitter.
People missing an educated PM like Dr Manmohan Singh

Its dawning on people now -"PM तो पढ़ा लिखा ही होना चाहिए।" https://t.co/BQTVtMbTO2

— Arvind Kejriwal (@ArvindKejriwal) May 31, 2018
"People missing an educated PM like Dr Manmohan Singh," he tweeted.
Kejriwal had openly criticised Manmohan Singh in the past. "Manmohan failed to check corruption within Congress and his own government," Kejriwal had said in 2013.  
(With inputs from ANI)