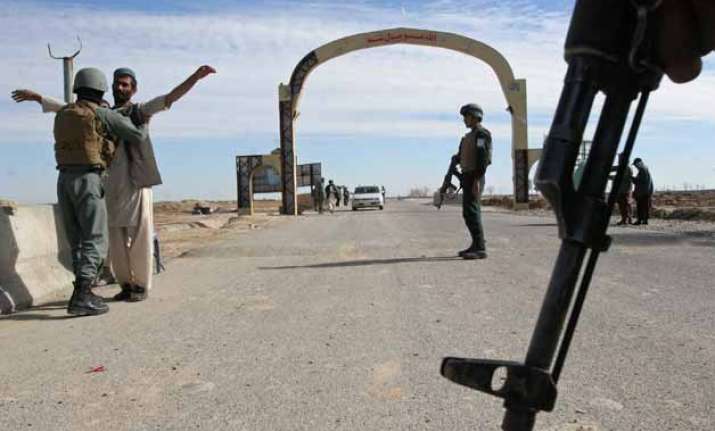 Washington: The Obama administration is suggesting it could reconsider its plan to remove nearly all U.S. troops from Afghanistan by the end of 2016 as part of an effort to ensure that the Afghans can maintain security in their country.
Jeff Eggers of the White House's National Security Council said Friday the U.S. still intends to pursue its withdrawal strategy, which calls for a U.S. security cooperation office in Kabul beyond 2016 of about 1,000 U.S. troops, but no major troop presence.
But Eggers left open the possibility that could change, saying the post-2016 plan will be considered on an ongoing basis.
President Barack Obama is meeting next week with Afghan President Ashraf Ghani and Chief Executive Abdullah Abdullah and is expected to announce plans to slow down the pace of troop withdrawals between now and the end of 2016.
"The question of the post-2016 plan will, of course, flow from that, and it's fair to say that will need to be considered in the same way given the intent to maintain this ongoing dialogue with President Ghani and his team," Eggers said.
The administration's objective remains to continue toward a goal of leaving only a smaller security cooperation force in place starting in 2017, he said.
Current plans call for a U.S. drawdown to 5,500 troops by year's end. The Obama administration has said previously it might slow the pace of withdrawal, but until now has shown no inclination to go beyond 2016. That's a hard line the president drew when he announced the withdrawal plan.
Earlier on Friday, White House spokesman Josh Earnest said Obama and his national security team have been discussing changing the pace of the troop drawdown and the rate of base closures in Afghanistan to deal with the security situation in the country.
Earnest said that after 2016 Obama envisions a military footprint designed to protect embassy personnel and to engage in military-to-military relationships with the Afghan armed forces -- a figure that experts place at about 1,000 troops.
"The United States is interested in making sure that we have a troop presence that can protect forces that are on the ground," he said. "We want to make sure that we can continue to have some counterterrorism capability in Afghanistan, because there are still extremist elements operating in Afghanistan that do pose a threat to our interests."