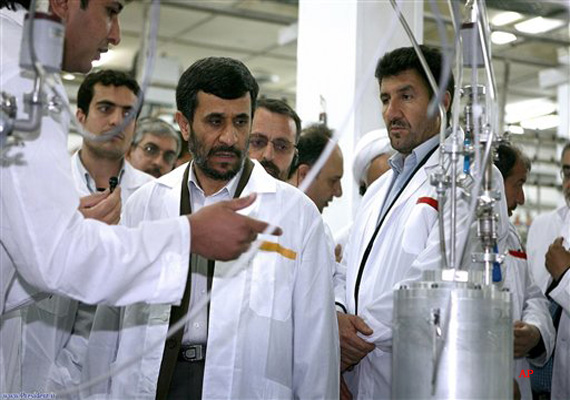 Washington, Feb 16 :  The United States said today that Iran's claim of progress on its nuclear programme seems "hyped" as it feels the bite of international sanctions and a possible need to return to negotiations.

Iranian President Mahmoud Ahmadinejad unveiled on state television what was described as Iran's first domestically produced, 20-per cent enriched nuclear fuel for Tehran's research reactor (TRR).

State Department spokeswoman Victoria Nuland said US officials will "learn more" about the development from International Atomic Energy Agency (IAEA) inspectors who are in Iran to monitor the reactor.

"But I would say that one thing is absolutely clear, that Iran is clearly feeling the pressure of its international and diplomatic isolation," Ms Nuland said, referring to a host of UN and other sanctions.

Referring to Iran's claim of progress at the research reactor, Ms Nuland said: "We, frankly, don't see a lot new here. This is not big news. In fact, it seems to have been hyped."

The Iranians have for months been boasting of progress, but they are in fact "many, many months behind" based on their own calendars, she said. "This strikes us as calibrated mostly for a domestic audience," she said.

Mr Ahmadinejad said 3,000 more centrifuges had been added to his country's uranium enrichment effort, and officials said new-generation, high-capacity centrifuges had been installed in Iran's Natanz facility.

Ahmadinejad also said that uranium exploration in Iran had been stepped up and a new yellowcake processing factory would be "pre-launched" next month. And he ordered Iran to "go build" four more nuclear research reactors.

"It may be that they (the Iranians) felt the need to bluster on their nuclear side even as they make clear that they do want to come back to the table for talks," Ms Nuland added.

The European Union said on Wednesday it received a letter from Iran and was "carefully studying" its content after Tehran declared that it proposed to resume nuclear talks with world powers.

The last talks between Iran and the world powers -- the United States, China, Russia, France, Britain and Germany-- took place in Istanbul a year ago and produced no results.

In a dual-track strategy, the six powers have offered Iran economic and diplomatic incentives to engage in negotiations over its nuclear program or biting sanctions when they refuse.

The Western powers fear Iran's nuclear program masks a drive for a nuclear weapon. Iran insists its aims are entirely peaceful.