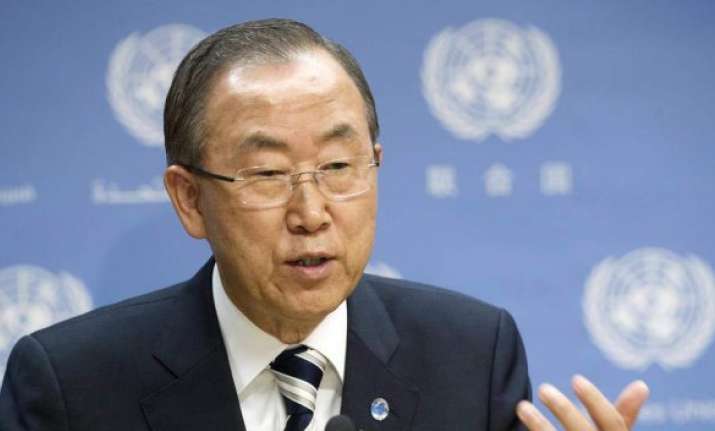 United Nations: Days before his visit to India, UN Secretary General Ban Ki-moon has expressed concern over the dispute between New Delhi and Rome over the marines issue and called on the two nations to reach a "mutually acceptable solution."
Ban's spokesperson Stephane Dujarric told Italian wire service ANSA on January 6 that the Secretary-General is "concerned that the (marines) issue remains unresolved thus sharpening tensions between two important member States."
The agency quoted Dujarric as saying that it is "important for both parties to try to reach a reasonable and mutually acceptable solution" and Ban "fears the issue could affect common efforts for peace and international security".  
Dujarric remarks come just days ahead of Ban's visit to New Delhi and Gujarat from January 10 to 13 during which he will meet President Pranab Mukherjee, Prime Minister Narendra Modi and External Affairs Minister Sushma Swaraj.  A day before making these remarks to ANSA, Dujarric had told reporters that the position of the UN chief over the issue remained unchanged.
Ban has maintained that the case of the two Italian marines being tried in India for killing two fishermen off Kerala in 2012 should be resolved bilaterally.
One of the two Italian marines, Massimiliano Latorre, has undergone a heart surgery in Milan to correct a cardiac anomaly, days before his scheduled return to India.  He has been in Italy after the Supreme Court allowed him to visit his home country on September 12 for four months for medical treatment after a stroke he suffered on August 31.  
Latorre had then sought an extension of his stay.  The Supreme Court had last month refused the pleas of Latorre seeking the extension on health grounds and that of his fellow co-accused Salvatore Girone the permission to travel there for Christmas, saying they cannot get such a "leeway".
The two marines maintain that they fired at the fishermen after mistaking them for pirates.
The marines had been living in the Italian embassy in New Delhi since then waiting to be tried, and were not supposed to leave the country.
The situation has led to tense relations between India and Italy, which says India has no jurisdiction in the case.