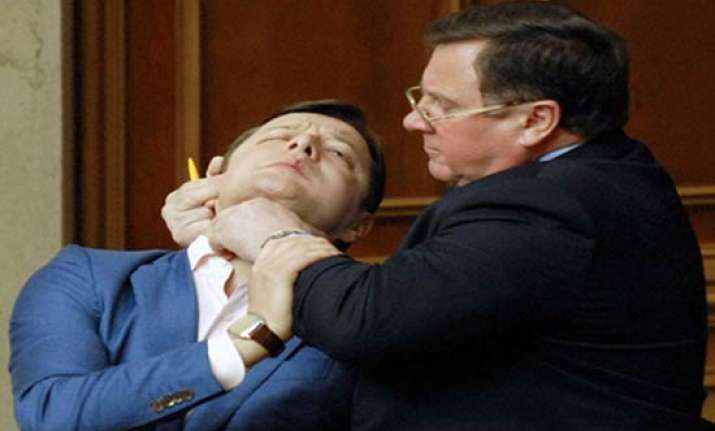 London,  May 24:  The  dull proceedings of Ukraine's parliament  were disrupted on Wednesday when Speaker Adam Martynyuk's deputy Oleg Lyashko asked to make a speech but was refused. He then reportedly called Martynyuk a 'Pharisee'.

Martynyuk leapt to his feet and lunged at his deputy.In what appears to be an expert self-defence move, the speaker pinched the deputy's throat in a 'death grip' while jamming two fingers into his temple, reports Daily Mail.

He then overpowers the man who is thrown to the ground after toppling over a wooden stand.But still visibly irritated, Lyashko gets up from the floor and the pair square up and push each other.




A number of other politicians who had been sitting in the session quickly rushed over to calm the pair, before Lyashko storms away.

Incredibly, he returns a short time later to give his speech, directing much of his anger at the Vice speaker, who can't resist a chuckle to himself.

The clip has become an internet sensation with thousands of people poking fun at the two officials.




Heated: Martynyuk's temper flared when he reportedly heard a remark from his deputy who was unhappy about not having the chance to give a speech to the assembled officials
Irate: The deputy speaker who was assaulted was finally able to give his speech, full of anger and lots of finger pointing at the senior speaker 
Smirking: A relaxed Martynyuk laughs off the incident once the commotion has died down. He continued with the parliamentary session as normal
One viewer wrote: 'It's a shame, I'm Ukrainian, but it's not my problem that I was born in the country with this government.'
Another added: 'I love how they try to restrain the guy that got choked, not the one that choked him.'

One stated: 'It's so funny how the other guy laughs later in the video'.