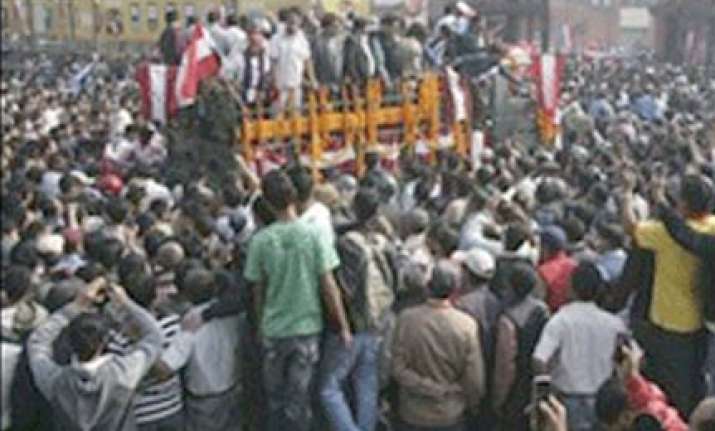 Thousands of people gathered in Kathmandu on Sunday to pay their final respects to Girija Prasad Koirala, the former Nepalese leader who brokered the agreement that ended a bloody civil war.
Huge queues formed around the national stadium, where Koirala's body is lying in state, as mourners carrying floral garlands and placards showing images of the former prime minister waited for hours to pay their tributes.
Koirala, who died on Saturday aged 85 after a long illness, led the Himalayan nation through some of its biggest upheavals, including the massacre of 10 members of the royal family.
His lasting legacy was the decision in 2006 to open talks with Maoist guerrillas waging a bloody insurgency against the state, which led to a November peace agreement that year and eventually brought the former rebels to power.
Koirala became the country's first elected prime minister in 1991 after pro-democracy protests, and was seen as the guardian of the country's peace process right up until his death.
Maoist leader Pushpa Kamal Dahal, who goes by the nom de guerre Prachanda, said Koirala's death was an "irreparable loss" to the peace process, which has faltered since the fall of the Maoist-led government in May 2009.
"Taking the peace process and constitution-writing to a logical end and leading the country towards prosperity... will be a true tribute to Koirala," Prachanda said in a statement sent in Nepali.
The head of the UN mission in Nepal, Karin Landgren, said the country had lost "a towering figure in its political history."
"Girija Prasad Koirala was instrumental to the peace process in Nepal which ended 10 years of conflict," she said in a statement.
"He brought his political skill and credibility to bear in persuading the parties to begin the dialogue that led to the 12-point agreement, and later to the comprehensive peace agreement itself."
Koirala's body will be taken later Sunday to the Hindu temple on Pashupatinath in Kathmandu, where he will be cremated at a ceremony expected to be attended by hundreds of thousands of mourners. India's External Affairs Minister S M Krishna and former BJP president Rajnath Singh were among leaders who paid their last respects to Koirala.