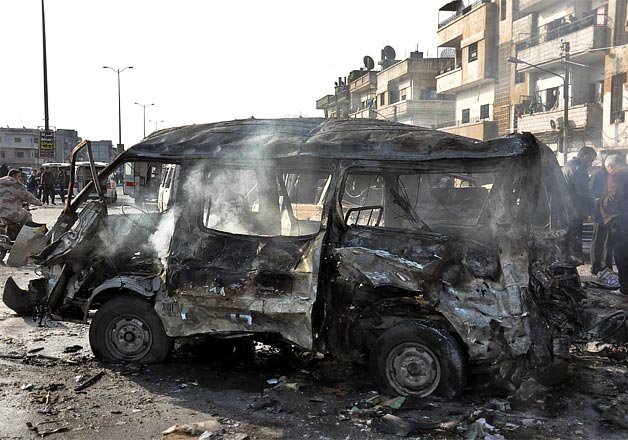 Beirut: Two blasts in the central Syrian city of Homs killed at least 32 people and wounded 29 Sunday in the latest wave of violence to hit the city in recent weeks, state TV said.
The television report said Sunday's blasts struck in the pro-government neighborhood of Zahraa — a frequent target for similar explosions.
The Britain-based Syrian Observatory for Human Rights, which relies on a network of activists around Syria, said the blasts killed 25 and wounded more than 100. The Observatory said the blasts were caused by two vehicles rigged with explosives after reporting earlier that it was not immediately clear if the second was caused by a car bomb or a suicide attacker wearing an explosive belt.
State TV said the blasts occurred at about 8:15 a.m. (06:15 GMT) saying they were the result of two car bombs.
The report aired footage of the destruction caused by the blasts. Debris and mangled cars filled the streets and the charred body of a man was seen being taken away on a stretcher.
The Zahra neighborhood is predominantly Alawite, the minority sect to which President Bashar Assad belongs.
Homs, once dubbed the capital of the Syrian revolution, has been hit with a wave of explosions in recent months, killing and wounding scores of people.
Two blasts hit the Zahra neighborhood on Jan. 26, killing 20 and wounding more than 100 people.