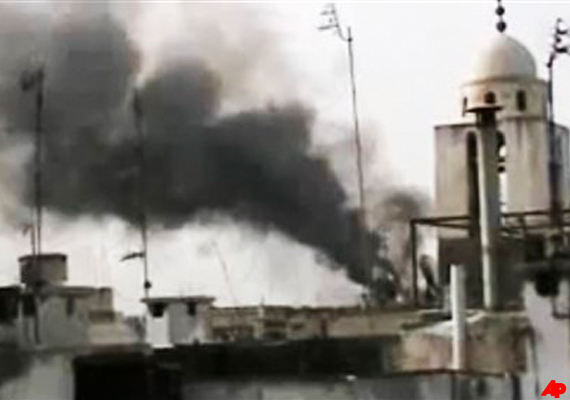 Beirut, Mar 27: Syrian troops shelled various parts of the flashpoint city of Homs today, with at least eight people dying in the onslaught and eight more killed across the country, activists and monitors said.
The Syrian Observatory for Human Rights said the casualties in Homs included two children who died when mortars fell on central neighbourhoods still not under the control of regime forces.

The Khaldiyeh district, targeted in a week-long campaign to flush out regime opponents, was also hit by mortar rounds that set houses alight, said the Local Coordination Committees.

"The regime is trying to storm the neighbourhood," said a statement from the LCC, an activist group that organises anti-regime protests.

Eight more people died in other parts of Syria. Sniper fire killed one in the northwestern province of Idlib and an 18-year-old woman and three soldiers died in clashes in Harasta, in Damascus province.

One civilian was also killed at a checkpoint in northern Aleppo province and two people were shot dead near the famous Krak des Chevaliers crusader castle close to the Lebanese border.

Clashes were also reported in the eastern hot spot of Deir Ezzor, where security forces carried out dawn raids in which 16 people were arrested, the Observatory said in a statement received by AFP in Beirut.