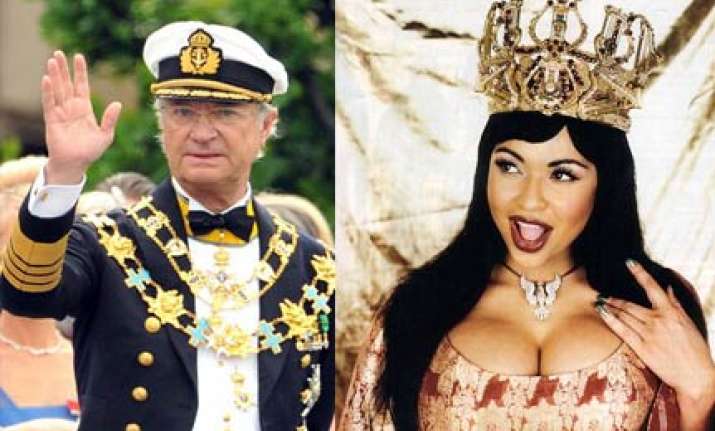 In a new biography of King Carl Gustaf of Sweden, titled The Reluctant Monarch, the king emerges as a habitual participant in wild sex parties involving strippers, sometimes hosted by an infamous Mafia boss in a Stockholm club.
King Carl, who is Queen Elizabeth II's third cousin, is a charming man of quiet ­dignity, loved by his people as an ordinary family man, his main hobby is Scouting, reports Daily Mail, London.
His only acknowledgement of a racier world is the stable of fast cars he enjoys driving. As for his 34 years of marriage with Queen ­Silvia, this is held up in ­libidinous Sweden as a ­wonderful example of what ­marriage should be.
Perhaps most damaging of all is the ­allegation that, over many years, he has been protected by the Swedish secret service, Sapo, hoovering up embarrassing material in his wake and ­pressuring women to hand over compromising pictures.

As the book, The Reluctant Monarch, sold out its entire 20,000 initial print in Swedish bookshops yesterday, this normally ­unshockable country was shaken by the ­startling details amassed by its three ­investigative authors about the secret life their King has apparently been leading.
What emerges is a monarch who has spent a fortune on sex parties and strip clubs.  At one Stockholm club elaborate dinners were followed by liaisons in a communal ­whirlpool with scantily clad women, some of them, it seems, aspiring models.
Sometimes, according to the book, the girls would 'throw off their clothes and sit in the men's laps'.
According to the Mafia-linked club owner Mille Markovic, who is quoted in the book, he liked having the King as a customer because it minimised the possibility of police raids.
Several women interviewed for the book claim they had sex with the King. Indeed, after one big dinner ­celebrating a successful elk hunt, he is said to have enjoyed sex with two women at the same time.

At the 1996 Olympics in Atlanta, where the King of Sweden was ­inevitably a VIP guest, he is said to have spent $10,000 (£7,000) in the Gold Club nightclub, including two hours in a room alone with one of the strippers.
In some instances, Sapo agents have been used to search the homes of women in order to confiscate ­pictures and negatives taken at the King's private parties.
'If the rolls of film and pictures aren't turned over, some ­unpleasant things will happen,' the book ­startlingly claims.
No fewer than 14 pages are given over to an alleged lengthy affair he had with Camilla Henemark, the beautiful Swedish singer and model whose father was Nigerian and mother Swedish.
Her response to the revelations yesterday was not to deny them but merely to say her ­lawyer had advised her 'not to give any comments'.
The book claims that Queen Silvia was aware of this affair but was ­helpless as the King 'had fallen in love like a teenager and, on one ­occasion, the King and Henemark were talking about leaving for a ­distant island, like Marlon Brando in Tetiaroa in French Polynesia, where they planned to live on coconuts'.
To Swedes, it is scarcely ­imaginable that this comfortable man, so ­correct in his role, so enthusiastic about Scouting as the youth movement's world chairman and a regular visitor to jamborees, could even ­contemplate such a sordid secret life.
Typically, he delighted his subjects some years ago with a remark showing his disapproval of the clubbing of baby seals in neighbouring Norway.
He said that a prime minister who couldn't take care of baby seals couldn't be very good at ­taking care of his country.
There has always been much ­sympathy for him, since it emerged that he is dyslexic and finds ­reading and writing difficult.
Added to this was considerable admiration for the way he overcame the challenges he faced as a child.
He was just seven months old when his father was killed in a car crash. This made him heir to his ­grandfather, King Gustaf. He was 27 when he became King.
King Carl Gustaf has talked of the sadness of growing up without knowing his father. His elder sister, Princess Birgitta, has said they were brought up in a royal house of severe strictness where 'children's questions were met with silence, children's anxiety and fear with the same silence'.
It is because they know this story of the King's wretched childhood that his 'happy' marriage has been such a significant part of the warmth shown by his subjects ­during his 37-year reign.
Ironically, it was at another ­Olympic Games — in Munich in 1972 — that he met Silvia Sommerlath, an ­interpreter with a German father and Brazilian mother. She was ­working as an official Games hostess.
They married in Stockholm ­Cathedral in 1976 and, until now, nothing has ever indicated anything but contentment in the marriage.
In fact, recent episodes rocking the royal household, concerning their children, made them seem closer and more devoted to each other than ever.
First, their son Prince Carl Philip ended a decade-long romance with his g­irlfriend and started seeing Sofia Hellqvist, a reality TV show model who has posed ­wearing ­nothing but a python and a G-string.
Then it emerged their younger daughter Princess Madeleine, 28 — once seen as a possible bride for Prince William — had pulled her engagement ring off her finger, ­cancelled her wedding to her ­dashing lawyer boyfriend of eight years, Jonas Bergstrom, and flown in tears to New York, where she remains.
The reason: a blonde Swedish ­photography student had ­disclosed that she had sex with the putative prince after meeting him in a Swedish ski resort.
'We were intimate — he followed me home in a taxi at four o'clock in the morning,' she told a Norweigian magazine. 'I'm sorry for Madeleine for having an unfaithful man.'
Within hours, the royal palace had issued a statement saying the ­Princess's engagement was off.
Nor was the mood in the family improved by their eldest child, ­Princess Victoria, 33. She is the heir to the throne, rather than her younger brother, because of a change in the law insisted on by their father, which enables the ­eldest to inherit, whatever their sex.
This very modern King wanted to be sure that no daughter of his would be passed over for the throne, as were his own four older sisters.
In June, the future Queen shocked her parents (and horrified royal courtiers) by marrying the man who had been her personal trainer for eight years. The genial chap from the provinces is now Prince Westling.Through all these family dramas, no one has suffered more than Queen Silvia. First her children — now her husband.
'It's terrible that this has all come out,' says a courtier. 'But the Queen is a trooper. She will show nothing.'
Meanwhile, King Carl will, in four weeks' time at Stockholm Concert Hall, perform as ever his annual duty of handing out the awards to this year's Nobel Prize winners. In the tradition of the awards, he will say nothing, leaving the speeches on this great occasion to the recipients.
He had not read the book 'yet', he said, when he emerged from the ­forest, but he understood what it contained.
'I have spoken with my family and the Queen and we choose to turn the page ... and move forward because, as I understand, these are things that happened a long time ago,' he said.
That may be so, but can things ever be the same again between King Carl Gustaf and his people?