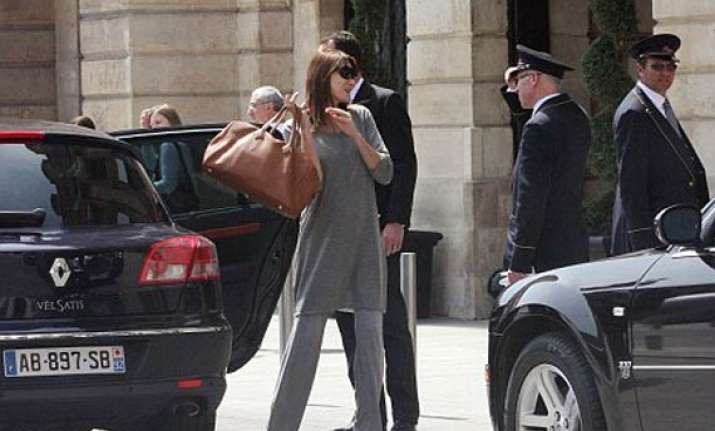 Paris, May 26: France's First Lady Carla Bruni Sarkozy on Thursday tried to cover up her bulging belly with  a large handbag, The Daily Mail reported.
As Carla left the Ritz in Paris after a spot of lunch, she used a large handbag to conceal her tummy.

And a security guard joined the cover-up with a strategically placed arm.
A pale Carla, 43, wore a loose grey top and what looked suspiciously like a pair of elasticated slacks.

On Monday advertising executive Jacques Seguela, who introduced the couple in 2007, announced: 'I have it on good authority that the baby will be a boy.'

Bruni and Sarkozy began their whirlwind romance after Seguela sat them next to each other at a dinner party.

They married just three months later at a private ceremony in the Elysee Palace on February 2, 2008.

Revelations that the baby will be a boy come just a week after the president's 83-year-old father Pal Sarkozy said the couple did not want to know what they were expecting.

He said: 'They do not want to know the sex of the baby in advance, but I'm sure it will be a girl and she will be as beautiful as Carla.'