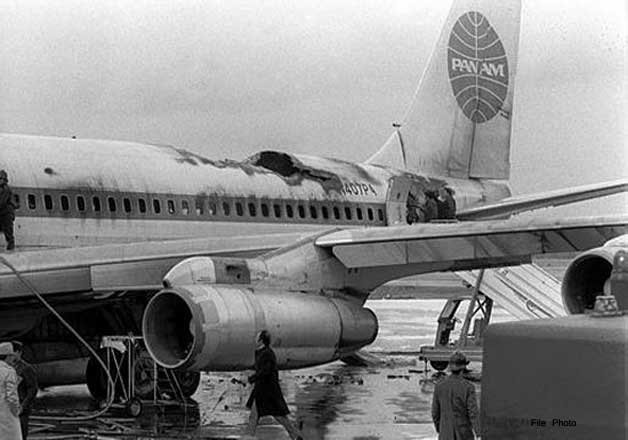 Washington:  Literally running from pillar to post in both India and the US for the past several years, Indian and Indian-American relatives of victims of the 1986 terror attack on Pan Am Flight 73 are now pinning their last hope on President Barack Obama and Prime Minister Narendra Modi to resolve the issue of compensation.  
The Indian and Indian-American victims of the terrorist attack, in which 20 passengers including two American and 13 Indians died, and over 120 injured, have sought an appointment with Obama when he travels to New Delhi later this month to attend the Republic Day Parade as its Chief Guest.  

The US, who the Indian and Indian-American victims allege that they are being discriminated when it comes to paying them compensation, has pleaded its inability to do so arguing that it is bound by rule of the land and international strictures in matter of compensation for victims who were not American national at the time of the attack.
But in a fresh move, it says it is willing to work with the Indian Government to address their grievances on the matter of compensation.
"There is a history on this that can be looked at and then we (India and the US) can have discussions and consultations on what the options are for moving forward and what the legal requirements are on both sides. This is something that we would be prepared to sit down and discuss," Assistant Secretary of State for South and Central Asia Nisha Desai Biswal told PTI.
In the past several weeks, the Indian and Indian-American victims of the Pan Am 73 flight have renewed their efforts in both Washington and New Delhi pushing the two governments to get them the compensation due to them and thus bring to an end what they allege as the discrimination of the US Government.  
"We are a group of victims of Pan Am 73, an American flagship carrier, which was hijacked at Karachi airport. We have been discriminated against and abandoned by USA pursuant to the US-Libya Agreement of 2008. We would like to meet President Obama when he visits India in January to present our case," Aneesh Bhanot, representing Indian victims of the flight, said in a recent email to the US Embassy in New Delhi.  

Bhanot is brother of Neerja Bhanot who died in the Pan Am 73 hijack. The jet, with 360 passengers on board, was hijacked by four Palestinian militants on September 5, 1986, while on the ground at Karachi, Pakistan.
"We are hoping that this matter is raised during Obama's trip to India," Prabhat Krishnaswamy, representing the Indian-American families from Pan Am Flight 73, said.

"In my opinion, US flagged air-carriers (Delta, United, US Air) operating in India must be asked to respond with regard to their responsibility for Indians on board - since they are allowed to operate and profit from Indian customers every single day," Krishnaswamy said.  In an interview, Biswal acknowledged that in recent weeks the two countries have started talking on this issue.  "In recent days the issue (of compensation) has come up (between the US and India).
I have had some conversation with the (Indian) Embassy here on this issue.  "Certainly the Government of India is following this with deep interest. I do understand that this area is a concern and priority for them. This is something that we are prepared to engage with them on," she said.
Madhvi Bahuguna, a flight attendant on board Pan Am 73, said that she and many others feel being discriminated as they do not deserve compensation simply because they were not US national at the time of the terror attack.  In 2008, the State Department concluded the US-Libya Claims Settlement Agreement, which led to the permanent termination of all pending lawsuits against Libya and to the creation of a humanitarian settlement fund administered by the Foreign Claims Settlement Commission, she said in a recent interview.
"Victims of the Pan Am Lockerbie flight and the Berlin LaBelle Disco bombing were compensated regardless of nationality. However, compensation has been denied to Pan Am 73 passengers who were Indian citizens at the time, but have since become naturalized American citizens," she told PTI.  "We have been directed by the US to the Indian Government. India on the other hand says, since we are no longer an Indian citizen they are under no obligation to help us," she said.
For Indian victims, Indian Government argues that compensation is the responsibility of the US Government because Pan Am 73 was an American Carrier, rued Bahuguna, who as a flight attendant, risked her life to save the lives of several Americans and has been recognized for her bravery by the US Department of Justice.
"It is not that we are unsympathetic to the loss suffered by so many victims who were not US citizens including India, which had the majority of citizens on that aircraft. It's that legal strictures govern how these things work," she said.  "We have tremendous sympathy for the victims of hijacking of Pan Am Flight 73. It was a tragic and horrific terrorist attack. We deeply regret the sufferings experienced by all of the victims including the survivors," Biswal said when asked about the plight of these victims.
But the Indian-American victims remain unconvinced.  "I don't want sympathy from US (as they keep empathising) but justice for the victims," said Shikha, a victim of the hijacking in 1986 and married to US citizen at time of the attack, said.