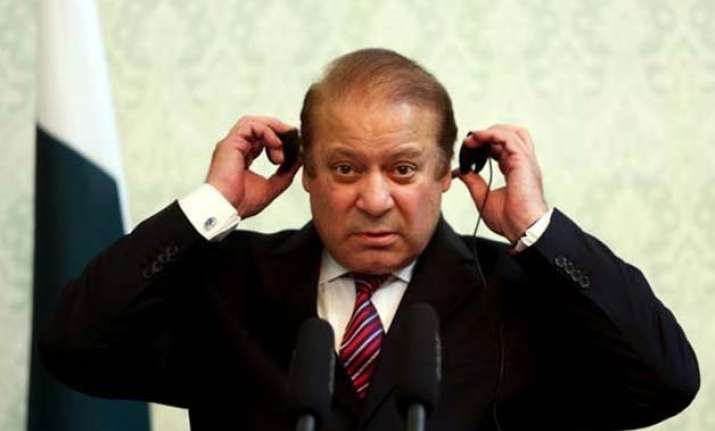 New Delhi: Pakistan Prime Minister Nawaz Sharif arrived in US on a four-day official visit in the wee hours of Wednesday.
Sharif, accompanied by his wife Kulsoom Nawaz, daughter Maryam Nawaz, Interior Minister Chaudhry Nisar and his special assistant on foreign affairs, Tariq Fatemi, was received at the Andrews Airforce Base by the Assistant Secretary of State Peter Selfridge.
He will meet President Barack Obama at the White House tomorrow. In addition to his meeting with Obama, Sharif is scheduled to meet Secretary of State John Kerry, and other senior officials of the administration.
The Pakistani Premier is under extreme pressure to take up the Kashmir issue with the American leaders.
Foreign Secretary Aizaz Ahmad Chaudhry has said that during Sharif's visit to the US, Pakistan will talk about the tension with India on the Line of Control (LoC).
He also said that the Premier will urge the US administration to play its role to ensure strategic stability in South Asia and in resolving the Kashmir issue.
Chaudhry said that Pakistan wants to have good and peaceful ties with its neighbours, including India, and Sharif went to New Delhi for this purpose, but no positive response was received from Indian side.
On Tuesday, Kashmiri separatist Hurriyat Conference chairman Mirwaiz Umer Farooq said that the Pakistani side informed him that Sharif will raise the Kashmir issue with Obama when he meets him on Thursday.
"I was told by the Pakistan High Commissioner that the Pakistan Prime Minister would be raking up the Kashmir issue with Obama (on October 22) during his visit to the US," Mirwaiz, who had an hour-long meeting with the envoy Abdul Basit in New Delhi, said.
Pakistan and the US have multi-dimensional ties and their cooperation in trade, energy, defence, counter-terrorism and education is on the rise, Chaudhry said.