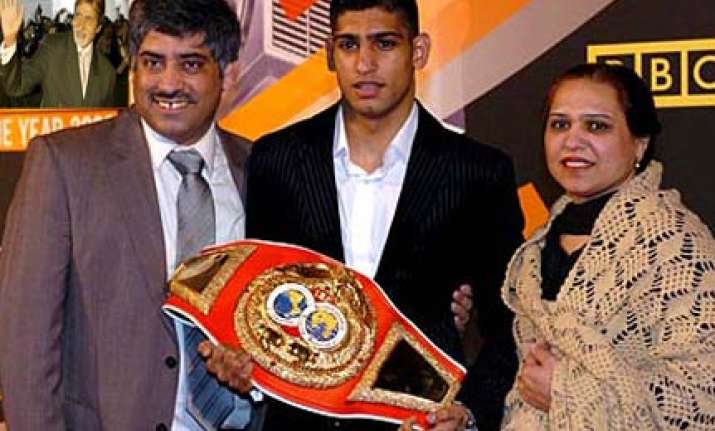 Megastar Amitabh Bachchan has legions of fans around the world, but the veteran actor was pleased with the latest addition to the list, none other than British boxing champion Amir Khan.
The Olympian, who is a UK citizen of Pakistani origin, surprised Bachchan when he brought along his whole family to meet him and to get a photograph.
"When I was boarding the flight in London along came the compact figure of Amir Khan the renowned world boxing champ... who turned out to be an admirer of my films and brought along his family to where I was seated for a keepsake photograph," wrote the 67-year-old actor in his blog.
The actor who is a follower of the sport and used to box while in school was full of praise for the 23-year-old pugilist.
"He is a perky fighter and I have witnessed several of his bouts on the TV. Full of spunk and great technique and speed, this little package of immense talent has been the pride of England, of which he is now a citizen," wrote Bachchan.
The veteran then compared the boxing ring to life, saying, "Much like life. You fight alone and you fight strong. There will be voices, but no one comes in to help or hold. They sound good, but they remain distant. Demarcated and away." PTI