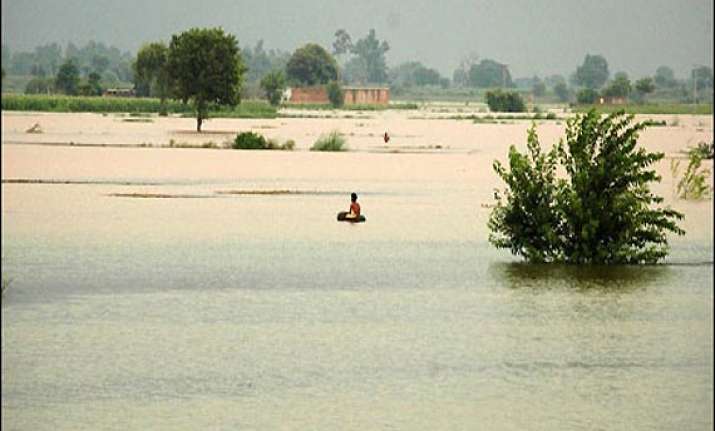 Islamabad: Over 300,000 people have been affected by floods triggered by heavy rains in the last two weeks and the death toll has touched 108, National Disaster Management Authority officials said on Sunday.
Floods have inundated 770 villages. Nearly 2,427 houses have been completely destroyed.  44 relief camps have been set up for displaced people.
Meanwhile, flash flood in river Chenab is threatening vast areas of agriculturally rich Punjab province.
Water level at Tarimo  Headworks is  continuously increasing, as water flow overnight surged by three thousand cusecs submerging several villages of  Jhang district.
Jhang-Sargodha Road near Pakaywala has been closed for traffic due to flood,  while rescue operation continued overnight for taking out over 50 persons trapped in the flooded village Lohaywala.
At least 50 villages of Chinot have been cut off with the urban areas due to flood, while standing crops in Shorkot suburban areas have been severely damaged .
Nine villages near Multan also were inundated as water lever in river Chenab mounted.
Pak Army contingents, Rescue 1122 and Civil Defence volunteers are busy in relief and rescue works in the flood-affected areas.
Tousands of acres of cultivated land in 72 villages of Hafizabad and Qadirabad have been badly hit by flash flood in Chenab.
Even on the fourth day Sialkot remains flooded by overflowing Nullah Aik water, while several villages of Narowal and Pusroor remained marooned by Nullah Dek's overflowing water.
Eleven villages have also submerged as water level at Taunsa in river Indus went up.
In Rajanpur, four union councils were inundated by overflowing Nullah Kaha and Chachar, while due to river Indus changing course near Jampur, water gushing into nearby villages
The Muridke-Narowal road, which was washed out in flash flood, has  been temporarily restored.
On the other hand, while plugging the breach in Nullah Dek, fibre optic was damaged that left the communication system completely cut off from Narang Mandi to other parts of the country, which by now has been restored.