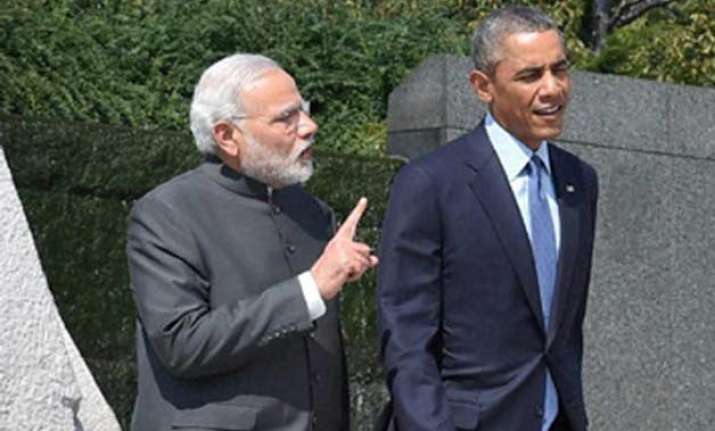 New Delhi: US President Barack Obama's visit to New Delhi has created ripples in the neighboring countries of India.
Uncle Sam's visit to India as the chief guest at Republic Day parade is upsetting for both Pakistan and China. The sweetening of relationship between the two largest democracies of the world was not taken in positive light by the local media of both the countries.
It is worth a mention that the country of 1.25 billion people has border disputes with its two nuclear armed bordering nations Pakistan and China.
US, through its healthy relationship with India, is likely to balance the growing influence of China in the region.
The Chinese media has tried to undermine Obama's three day visit to India's capital. China's official news agency Xinhua said, "The shortened three-day visit is more symbolic than pragmatic, given the long-standing division between the two giants, which may be as huge as the distance between them."
In an article published in China Daily journalist Swaran Singh said, "Apart from China's unprecedented rise, its increasing assertiveness in regional and global matters is often cited as a possible trigger for India's policy drift in favor of Western countries. Modi's repeated mention of "expansionism" and maritime terrorism, underlining the need to ensure freedom of navigation and over-flights suits the US, which has introduced the "pivot to Asia" and proposed the Trans-Pacific Partnership to counter China's rise."
The growing bonhomie between US and India could be more troublesome for Pakistan.
Pakistan has received trillions of dollars from United States in its fight against terror.
India is likely to use its influence on US to pressurise Pakistan to stop cross border terror activities. The closer India-US ties might affect US and Pakistan relationship.
An editorial in the leading publication of Pakistan Dawn read, "To be sure, there is an element of playing to the gallery involved in all such visits. Indian officialdom and its relatively nationalist media will likely try and elicit further comments on Pakistan from Mr Obama and other American officials that can be used by India to portray Pakistan in an even more negative manner."
The article further said, "If they are to fail in that objective, perhaps some Indian official himself will say something provocative in the next three days to grab the headlines."
Commenting on the effect in Pakistan, the article stated, "Here in Pakistan, that will present a dilemma for the government and foreign policy establishment — say nothing in response and risk being labelled as weak or say something through the Foreign Office and risk getting into a fresh war of words with India."
A Pakistani journalist, Wajahat S Khan, wrote in The News about the India-US nuclear deal, "Pakistan has itself been trying to cash a similar deal with the US, but the latter has remained hesitant. America's decision not to grant the deal was framed famously by former President George W Bush who, during his visit to Islamabad in 2006, said, "I explained [to General Musharraf] that Pakistan and India are different countries with different needs and different histories. "So as we proceed forward, our strategy will take in effect those well-known differences.""
Khan further goes on saying, "Over the years, despite their Strategic Dialogue, it's been clear that such a deal for Pakistan remains a distant dream as long as the US continues to take into account the "well known differences".
Adding further, Khan says that United States' mistrust on Pakistan caused it to get closer to China.