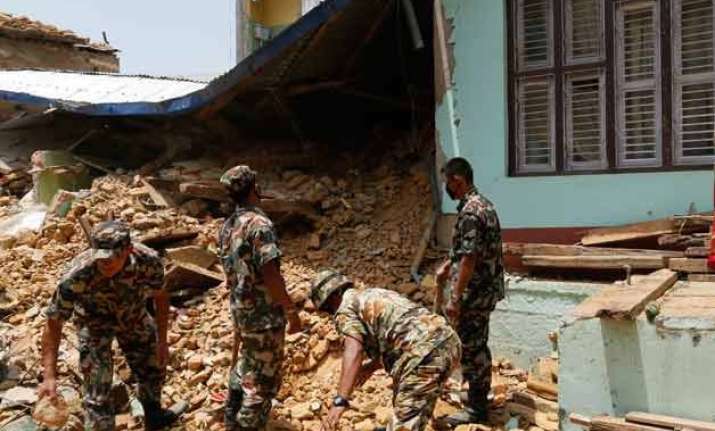 Kathmandu: A week after a massive earthquake hit Nepal, Nepal's government ruled out the possibility of finding more survivors buried in the rubble.
"It has already been one week since the disaster. We are trying our best in rescue and relief work but now I don't think that there is any possibility of survivors under the rubble," Home Ministry spokesman Laxmi Prasad Dhakal said.
While multiple teams of rescuers from more than 20 countries have been using sniffer dogs and heat-seeking equipment to find survivors in the rubble, no one has been pulled alive since Thursday evening.
The 7.8-magnitude quake, which was the deadliest in Nepal for more than 80 years, devastated vast swathes of the country when it erupted around midday last Saturday and reduced much of the capital Kathmandu to ruins.
The deputy inspector general of Kathmandu police, Kamal Singhbam, said on Saturday morning that 6,624 people died in the April 25 earthquake.
He said 14,025 people were injured in the calamity.
Efforts are ongoing to retrieve bodies from the rubble, though hopes have faded for finding anyone still alive.
Meanwhile, the Nepal government has renewed its appeal to international donors to send tents and tarpaulins for temporary shelter along with grain, salt and sugar.
The government also asked donors to send money to help with relief efforts if they cannot send things that are immediately necessary after last weekend's devastating earthquake.
"We have received things like tuna fish and mayonnaise. What good are those things for us? We need grains, salt and sugar," Finance Minister Ram Sharan Mahat told reporters Friday.
Mahat said the government has decided to exempt taxes on tents and tarpaulins.
Information Minister Minendra Rijal said Nepal would immediately need 400,000 tents and so far has only been able to provide 29,000 to the people who need them.
Yesterday, Nepal Prime Minister Sushil Koirala said that his country was indebted to India for its swift response. "I have no words to express appreciation for the Indian assistance. Actually, the contribution of all international teams, including the Chinese, has been extraordinary," he said.
He also said that the government will talk to the neighbouring India for reconstruction works.