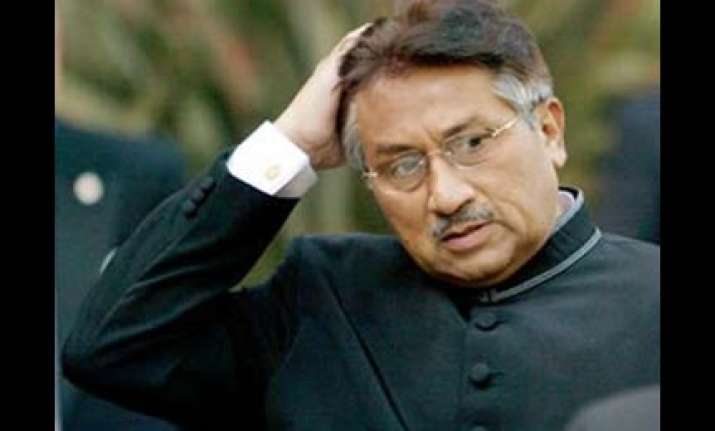 Peshawar, Nov 22: Seeking to return to active politics in his homeland, former military ruler Pervez Musharraf may opt for a safe seat of Chitral in Khyber- Pakhtunkhwa province to enter the National Assembly.
This was indicated by a leader of the ex-president's new All Pakistan Muslim League party, Muhammad Ali Saif, but the going could be tough for Musharraf as Taliban, who have ousted from the province by the Army still wields considerable sway.
To add to the woes of the former dictator all other major political parties in the country are also gunning for him.
"The demand of people of Chitral that Pervez Musharraf should contest elections from their district has proved that the masses want a change in the politics of the country and that only a revolutionary leader can bring these changes," APML secretary general Saif told a public meeting in Chitral yesterday.
Saif, a self-styled spokesman for Musharraf, claimed the APML will usher in a new era of development.
 He said the current Pakistan People's Party-led government is taking credit for development projects started by Musharraf's government.
Musharraf, who resigned as President in 2008 to avoid being impeached, has been living in self-exile in Britain since April last year.
He has said the APML will contest the general election scheduled for 2013 but not announced any date for his return to Pakistan.
The former military ruler's detractors contend he will not return to Pakistan as a raft of civil and criminal cases have been filed against him in courts across the country.
Some petitioners have called for Musharraf to be put on trial for treason for abrogating the constitution and imposing emergency in 2007.
Mounting a defence for Musharraf, Saif said the "champions of democracy and rights of the people were depositing huge amounts of ill-gotten money in their foreign bank accounts and inflation had reached the highest level."
"Those raising the slogans of 'Pakistan Khappey' (Pakistan United) are looting the country and are depriving them of bread, cloth and home," he said. PTI