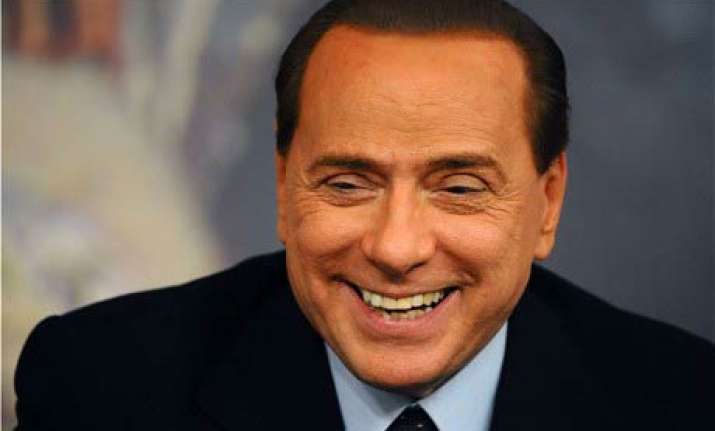 Rome, Feb 16 :  Italian Premier Silvio Berlusconi showed aplomb in the face of charges that could end his political career or land him in prison, saying he isn't  worried about his impending prostitution trial or calls for his resignation.
It was the first public comment by the 74-year-old leader since he was indicted yesterday on charges he paid for sex with a 17-year-old Moroccan girl and then used his
influence to cover it up.He spoke shortly before holding talks and a working dinner with Russian President Dmitry Medvedev, his first international meeting since the indictment.
Berlusconi has denied any wrongdoing, dismissing the accusations as "groundless" and the case as a "farce" and a "shame."
He has accused prosecutors of trying to topple his government. The premier today dodged questions about the case during a news conference on economic themes in Rome and, in contrast with recent days, did not go on the offensive to defend himself.
"Out of love of my country, I won't talk about this,"Berlusconi told reporters. "I can only say one thing: I'm not worried at all."Berlusconi also avoided the topic in remarks before a meeting with Medvedev, focusing instead on the close ties between Russia and Italy.
"I believe that I am a point of reference for Russia within the European Union, and I have personally tended to all of the relations that the EU has and will develop with the Russian federation," Berlusconi said, emphasising his close personal friendships with Medvedev and Russian Prime Minister Vladimir Putin.
The prostitution trial starts April 6 before three female judges, an ironic twist for the premier. Italian women staged nationwide protests last week contending that the scandal and Berlusconi's view of women is degrading to female dignity.
The three judges were picked at random. The indictment marks a serious challenge to Berlusconi's grip on power at a time when the premier is weakened by an acrimonious split with an ex-ally.
It reignited calls for Berlusconi's resignation, with the opposition contending the scandal, with allegations of wild parties at the premier's villas with scantily clad women, has embarrassed Italy and damaged its image abroad. (AP)