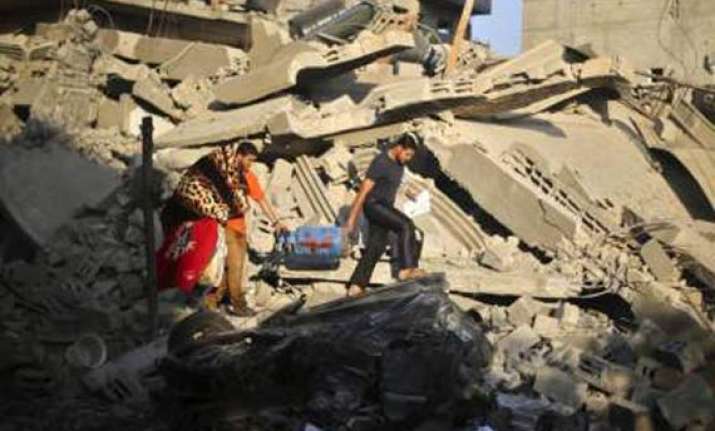 Gaza Strip: Israeli airstrikes pummeled a wide range of targets in the Gaza Strip on Tuesday as the U.N. chief and the U.S. secretary of state began an intensive effort to end more than two weeks of fighting that has killed at least 570 Palestinians and 29 Israelis.
Overnight, Israel bombed five mosques, a sports complex and the home of the late Hamas military chief, a Gaza police official said.
The Israel military announced early Tuesday that two more soldiers had died, one from sniper fire on Monday and one from still unexplained causes, bringing the military death toll to 27. It's the highest number of Israeli military fatalities for any campaign since the 2006 Lebanon war. Two Israeli civilians have also been killed in the latest conflict.
The airstrikes set off huge explosions that turned the night sky over Gaza City orange early Tuesday. The sound of the blasts mixed with the thud of shelling, often just seconds apart, and the pre—dawn call to prayer from mosque loudspeakers.
The strikes came as U.N. chief Ban Ki—moon and U.S. Secretary of State John Kerry met in Cairo late Monday to launch the highest—level push yet to end the deadly conflict. The U.N. has said that the majority of the Palestinians killed were civilians, among them dozens of children.
In the Gaza Strip, Israeli aircraft hit more than 70 targets, including the home of the late leader of Hamas' military wing, five mosques and a sports complex, said Gaza police spokesman Ayman Batniji. There were no casualties in the mosques or at the sports complex, which includes a gym, three martial arts studios and a soccer field.
Tank shells also damaged several houses along the eastern border of the territory, he said. At least 19 fishing boats were burned by Israeli navy shells fired from the Mediterranean Sea, Batniji added.
Six upper floors of a Gaza high—rise collapsed onto the two lower stories, buckling them into rubble. At the scene, construction company owner Ehab Batch, 40, and several of his workers were trying to retrieve documents from what had once been the company's 2nd floor offices.
Batch, who said he had had no work in the past year because Egypt had blocked border tunnels that bring in construction material, said Gaza needs an immediate cease—fire and a deal that would open all border crossing points.