Follow us on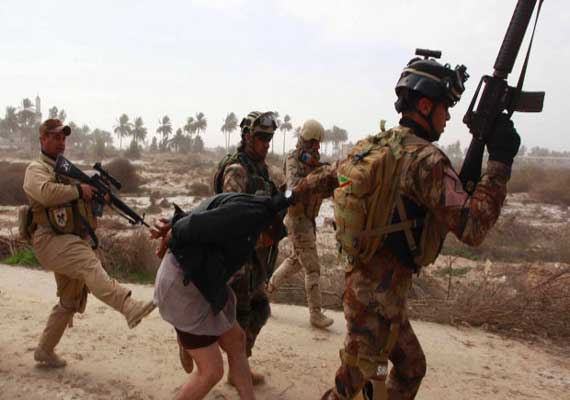 New Delhi: Armed American drones are flying over Baghdad as the Iraq crisis escalates with ISIS carrying out a lightning offensive and taking several cities in north Iraq.
As Iraqi Prime Minister Nuri al-Maliki looks to start the process of forming a new government, the sectarian divide in the conflict-ridden country worsens with reports of Iraqi soldiers executing Sunni detainees.
Surviving detainees and relatives of those killed gave graphic accounts that suggest Iraqi forces had carried out a series of vengeful attacks against Sunni detainees before withdrawing from Tal 'Afar and Mosulf in northern Iraq.
Both are now controlled by the Islamic State in Iraq and al-Sham (ISIS). In Ba'quba, central Iraq, government forces and Shi'a militias have been fending off attempts by ISIS to capture the city.
Survivors and relatives of the victims told Amnesty International that around 50 Sunni detainees were extrajudicially executed in the building of the Anti-Terrorism Agency in al-Qala'a in Tal 'Afar.
A survivor who narrowly escaped the attack described how four soldiers opened the door of the room where he was being held and began shooting at random.
One woman, Umm Mohammed, described the horrific state of the body of her cousin's son, "He had been shot several times in the head and chest; the body was covered in blood but you couldn't tell whose blood it was as the bodies were one on top of the other. He had not been convicted of anything; had just been arrested 10 or 15 days earlier. He had only just got married less than a month before he was killed."
Several other families also said they had relatives among the detainees who were killed in the Tal 'Afar jail, in some cases with two or more relatives from the same family.
Most said their relatives were arrested shortly before the killing and had been held in pre-trial detention. None had been tried.
In a separate incident in Mosul, several Sunni detainees were killed in the Anti-Terrorism Agency in Hay al-Danadan district.
A survivor said that at around 10pm on 9 June soldiers came into the cell and took away 13 of the 82 detainees being held there. Then they heard gunshots ringing out.