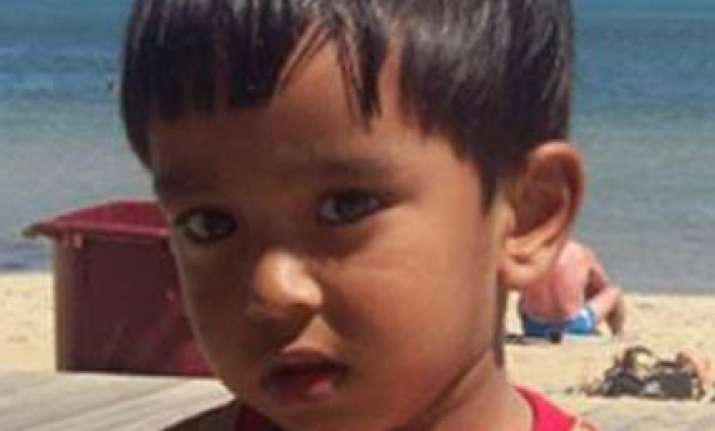 Australian police are on the hunt for a child killer after the body of a missing toddler was found 20 km away from where he had disappeared six hours earlier.
The Indian boy, Gurshan Singh Kaurchanna, 3, who was on a three-month holiday in Australia with his parents, vanished from a relative's house in Lalor at about 1.10 pm (Australian time) on Thursday, while his mother was having a shower.
The family from Faridkot district in Punjab, which was due to leave Australia soon, told the police that Gurshan was home playing. His mother, Harpreet Kaur, who is studying in Australia, was in the bathroom and came out to see the security door ajar and Gurshan gone. After a frantic search on the premises, a family member called the police.
The boy went missing while his father was at library. The boy was distraught that he was not allowed to go with his father. According to reports, there were couple of people in the house when the boy went missing.
A massive hunt was launched and a council worker discovered the body at Oaklands Junction, close to the Melbourne airport after 7 pm. An Australian newspaper website quoted the police as saying that the body found was in grey top and blue jeans. This is what Gurshan had been wearing when he went missing.
Victoria Police Deputy Commissioner Sir Ken Jones was quoted by Australian media as saying that they believed the child had been murdered. ''We are treating as worst case ... as a homicide,'' he said. ''This is a terrible tragedy.
''We are doing everything in our power to establish what happened. Clearly the circumstances are suspicious, so we are assuming the worst.''
The police say the boy's body had no obvious signs of injuries and there is a need to conduct forensic tests.
Jones assured that all resources would be put in to bring the culprits to justice.
The much-awaited autopsy has failed to determine the cause of death of three-year-old Indian boy Gurshan Singh, whose body was found near Melbourne after he went missing from his house, Australian police said on Friday.
Victoria Deputy Police Commissioner Sir Ken Jones said: "There is no visible signs of the cause of death."  Jones said the boy's parents were being interrogated.  "At the moment we're desperate for witnesses to come forward. We're pretty convinced there's people out there that may have seen something," he said.  He said police have not yet determined if the boy's death was an opportunistic crime or something else. 
"We just don't know at this time and I don't want to speculate and try to keep people focused on the facts as we know them," he said.  "It's clear that this wasn't death from natural causes, but we don't yet have a 100 per cent conclusion on what the actual cause of death was." 
Gurshan was in Australia on holiday with his family and was due to return to India later this week. His body was found around 30 kms away from his residence yesterday.  Victorian state police said the toddler's body was found by a council worker in long grass. 
Australian Prime Minister Kevin Rudd has condemned the toddler's death, calling it a "brutal thing to happen". Police were treating the incident as a "worst case" and have deployed all available resources to investigate the suspected homicide. PTI