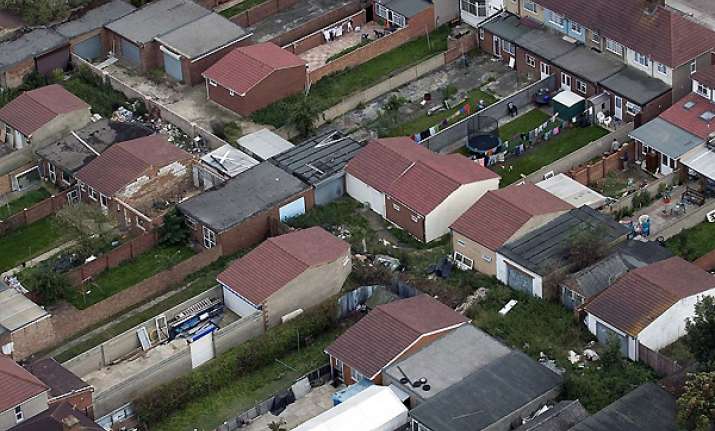 London, Oct 16: The Sun and the Daily Mail on Sunday published pictures of  Indian house owners in Southall, London, creating a veritable slum by flouting building laws.

The reports said,  garden sheds and garages have been transformed into dodgy homes for immigrants in this west London suburb.

According to The Sun, the sheds in Southall have been built by rogue landlords who are cashing in on newcomers to the country.

They are completely hidden from view from the street and are a clear breach of strict planning laws.

Illegal immigrants have made some of the tiny shacks their homes, some of which are highly dangerous.

Rats and cockroaches roam around the units, while others have poor wiring and sanitation.

Others are adorned with flat-screen TVs, power showers and central heating.

Sukhvinder Singh, who is originally from the Punjab in northern India, shares a shed with three others for £500 a month in Southall Green.


The Indian labourer, who arrived in Britain on a student visa, told The Sun: 'I'm here to work. If I wanted to study I could have stayed in India.'

Sukhvinder told how if the council raided the shed where he pays rent then there are 'a thousand other places like this we can stay in'.

He also told how he thinks rogue landlords flout planning rules. 'You just have to say you're building a shed for tools. Once you've got the doors on, you can do what you like.'

Another immigrant told how he had been there for nine years and had never had a visit from the council.

It is believed there are 10,000 similar shacks in London and the Home Counties.

Many people who live in them are cash-in-hand manual workers who pay no tax.


A man claiming to be the landlord told the newspaper how he was currently building a shed at the bottom of his garden. He had built another five years earlier and charges £40 per person per week.

'It's up to you how many tenants you put in,' he said. 'I've had no problems from the council - not yet. You just say you are bulding a garage.'

Planning permission is always needed if a homeowner builds or converts an outbuilding for people to live in.

The Housing Act states that council officers must give 24 hours' notice before visiting properties.

This means evidence of people living in the garages and sheds can easily be removed, which has led to criticism of the system by some Ealing councillors.

An Ealing Council spokesman told The Sun: 'This is a growing problem across London. We wrote to the Government in July to highlight flaws in the law that mean we have to give written notice before we can enter a property, making it very hard to prove buildings are being used as accomodation.'

A spokesman for the Department for Communities and Local Government said local authories already had a wide range of enforcement powers to clamp down on beds with sheds.

The spokesman added: 'Ministers are however in discussion with local authorities on this issue.'