Follow us on Dolly Ki Doli title track is out and as expected, the song is all fun and mischievous but doesn't sound like something we have never heard before.
Song: Dolly Ki Dolly, Songster: Divya Kumar, Music: Sajid-Wajid, Lyrics: Irfan Kamal
Voiced by Divya Kumar, Dolly Ki Doli is composed by musical duo Sajid-Wajid. Starting from a strong dialogue punched by Pulkit Samrat, the song escalates around Dolly, her beautiful tactics to lure her target and her various fascinating bridal avatars.
While the composition constitutes notes back and forth, Dolly Ki Doli is an amalgamation of peppy rhythms and lively visuals. Though Sonam Kapoor and her vivacious charm are alone enough to fill colours in the song, Dolly Ki Doli also credits its energy to its vocals.
Singer Divya Kumar, who has recently garnered myriads of accolades for Varun Dhawan starrer 'Jee Karda,' here, shows his vulnerability as a dynamic singer. Though 'Jee Karda' rides him in the league of legendry singer Sukhwinder Singh, 'Dolly Ki Doli' track makes you feel enchanted. There seems no force in the song; still you are likely to hum it for long.
No need to mention that Sonam Kapoor in 'Dolly Ki Doli' title track looks more-than-beautiful enriching her con-bride avatars, the song focuses more on how brilliant the lady is with her tasks.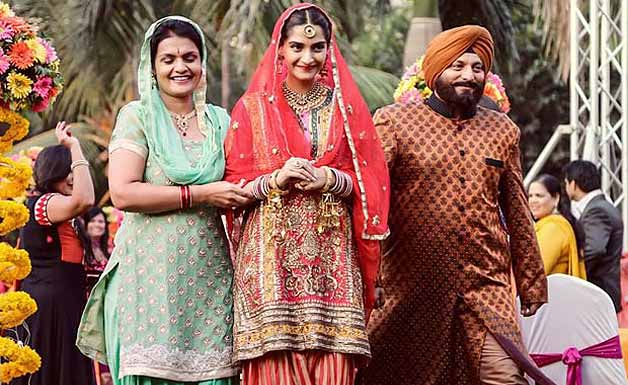 She is elegant, smart, cunning, sensuous, sophisticated but she is Dolly, a girl with a super woman persona and magical aura. With all these inherent features of Dolly, the title track deserves an extra point for aptly showcasing all these vivid stances in one go.
While Dolly Ki Doli is something that would appeal more to you with its visuals, the lyrics by Irfan Kamal would encroach your tongue as soon as you would listen to it. There are no heavy flowery words, but a repetitive push of the name will engrave the entire 'Dolly, Dolly, Dolly, Dolly, Dolly-Ki-Doli' in your wit.
Watch the colourful Dolly Ki Doli title track here…
Overall, the title track of 'Dolly Ki Doli' sounds energetic giving you an upbeat friction. And more than anything else, it matches the fun fervour generated around Sonam Kapoor playing Dolly in the film.
Dolly Ki Doli also stars Rajkumar Rao and Varun Sharma in other pivotal roles apart from Sonam Kapoor and Pulkit Smarat. The film is set for release on January 23 and is directed by Abhishek Dogra, produced by Arbaaz Khan and Malaika Arora Khan.