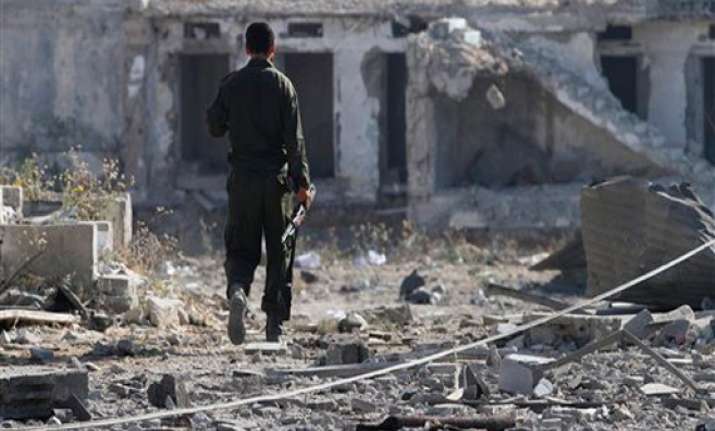 Jerusalem, Jun 23: 
Israeli airstrikes killed one Gaza militant and injured 17 people in the coastal strip Saturday while a rocket from the Palestinian territory wounded one Israeli.
The country's military chief of staff summoned senior officers to discuss the latest flare-up in violence.
A military spokesman said Lt. Gen. Benny Gantz convened "an urgent meeting" to discuss ways of dealing with the Palestinian attacks. Gaza militants fired over 20 rockets and mortar shells on Saturday alone, bringing the week's rocket tally to about 150.
The military spokesman, who spoke on condition of anonymity in line with regulations, gave no other details about the meeting.
The latest flare-up is the most serious in months. Over a million people in southern Israel live in range of the rockets and the Israeli military has advised the residents to make sure they can get to a bomb shelter quickly.
Early Saturday morning, an Israeli airstrike killed a Palestinian militant as he rode his motorcycle in Gaza.
In two other airstrikes 17 Palestinians, militants and civilians, were wounded and several buildings used by the Islamic militant Hamas group, which rules the coastal territory, were damaged.
The Israeli military said it hit "terror sites" and that it holds Hamas accountable for any attacks originating from the Gaza Strip.
Also, an Israeli was seriously wounded Saturday when a Gaza rocket smashed through a factory roof. Rockets from Gaza also hit a school in the Israeli border town of Sderot.
The school was closed for the weekend so no one was hurt but the building was damaged. Several other Israelis were injured in Palestinian rocket attacks this past week.
The spike in violence began on Monday when two gunmen infiltrated into Israel along its border with Egypt's Sinai peninsula and killed an Israeli Arab construction worker who was part of a crew building a border security fence meant to avert such attacks.
 Later, a little known al-Qaida-inspired group, the Mujahedeen Shura Council of Jerusalem, claimed responsibility for the attack and identified the gunmen as an Egyptian and a Saudi.
Since then, Gaza gunmen have fired barrages of rockets and mortar rounds at Israel, wounding several Israelis and damaging apartment buildings. Israel responded with airstrikes on militant targets that gave killed at least 9 Palestinians and wounded more than 20 so far.
Meanwhile, Gaza health official Ashraf Al Kedra said a boy was killed in a playground during an airstrike Saturday morning in Khan Younis. The Israeli military said they didn't attack that area.
Military spokeswoman Lt. Col. Avital Leibovich later called the allegation a "false rumor" and said that according to intelligence information, the boy was killed by "ordinance belonging to one of the terror groups." Palestinian rockets often misfire and explode inside Gaza.
The latest escalation has drawn in militants from Hamas, which rules the territory but has largely refrained from attacking Israel since a war more than three years ago.
Other Palestinian groups persisted with rocket assaults and other attacks on Israel during that time.