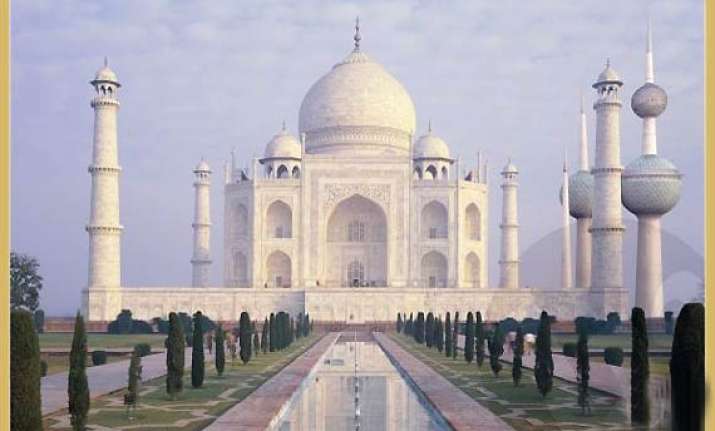 London, Aug 10: The first printed depiction of Taj Mahal, is among the highlights of Bonhams 'India and Beyond: Travel and Photography' sale in London on October 4.

It is included in a volume of aquatint views of India by William Hodges who travelled through the country in the 1780s executing drawings on the spot. The Taj Mahal appears in the background of a view of the Fort of Agra suggesting that Hodges was more interested in the military installation than the building which in future generations came to symbolise eternal love.

This is one of the most important books of aquatints of India and is estimated at £30,000-35,000.

The volume is part of a extensive collection of books, photographs and prints about India put together privately over 25 years which makes up the greater part of the sale.

Among the other prominent items from the collection are:
A complete copy of Emily Eden's Portraits of the Princes and People of India estimated at £20,000-30,000.

Published in 1844, this exceptionally rare folio of 24 hand-coloured card mounted lithographs covers the panoply of life in the court of the Sikh rulers of the Punjab, from Maharajahs and Nawabs to fakirs, servants and attendants.

The plates are based on original drawings by Emily Eden who lived in India from 1835 – 1842 when her brother, Lord Auckland, was Governor General.

Numerous fine prints by Thomas and William Daniell (ranging from £300-400 to £2000-3000) in addition to their copy of Oriental Scenery (1812-1816), with 144 aquatint plates estimated at £5000-7000.

A scarce complete copy of one of the great pioneering works of Indian photographs: a first edition of Thomas Taylor Meadows and James Fergusson's Architecture in Dharwar and Mysore (1866), with photographs by William Henry Pigou, Andrew Charles Brisbane Neill and Thomas Biggs estimated at £20,000-£30,000.

Other lots include rare prints and books and numerous groups of early Indian photography and albums (including trades, types, tribes, cities and Indian royalty) by the likes of, amongst others, Lala Deen Dayal and Linnaeus Tripe.