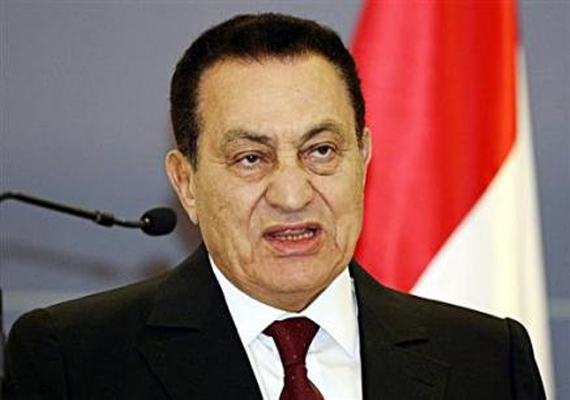 Cairo, Feb 23: The fate of Egypt's former strongman Hosni Mubarak will be decided on June 2, with the Egyptian court conducting his trial setting the final date for verdict after the ousted president turned down a last chance to speak in its final session today.

The prosecution has called for death penalty for Mubarak, who was Egypt's most powerful man for over 30 years until a mass revolution overturned his regime last year.  If convicted Mubarak, his interior minister Habib al-Adly and six security chiefs could receive death penalty for ordering the deaths of protesters during the uprising that toppled Mubarak, Al Jazeera reported. 

The six-month-old trial entered its final day today with presiding judge Ahmed Refaat saying he had heard both the prosecution and defence.

Mubarak, 83, is facing charges of corruption, besides those of ordering the killing of protesters.  In the dock are also his two sons, Alaa and Gamal, and businessman Hussein Salem.

The prosecution has told the judge that ailing Mubarak is now fit to be shifted to Tora prison as calls have mounted to shift him from hospital to prison.

While Mubarak turned down a chance to speak, Adly did address the court for more than an hour and a half, speaking of a "conspiracy" against Egypt.

He said "foreigners" who had climbed on the rooftops of buildings had shot at the protesters, while blaming Hezbollah and Hamas of sending infiltrators into the country.  His defence of himself and the police against the charge of murder, also drew applause from some police officers standing at the back of the courtroom. 

During its hearing the trial court saw Egypt's powerful figures, including the head of the ruling military council Field Marshall Hussein Tantawi and the Army chief diposing.  The prosecution says it has taken testimony from 2,000 witnesses, including police officers who discussed orders from Mubarak to arm police with automatic rifles and shotguns to use against protesters.

Mubarak denies ordering the killing of protesters during the uprising that forced him to step down last February after three decades in power.According to Amnesty International, about 840 people died and more than 6,000 were wounded in the 18 days of unrest.