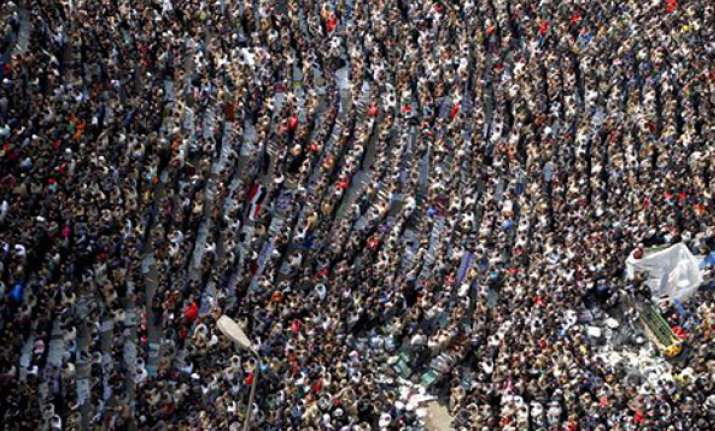 Cairo, Feb 11:  Egyptian military today came out in support of a beleaguered President and asked protesters to go home, assuring them of free and fair elections in September and the lifting of a much-hated emergency law, in a stand that caused widespread disappointment among the people who pledged to take their campaign to its 'final stage'.
As the powerful military unexpectedly threw its weight behind the President, tens of thousands of angry people converged again on the streets and vowed to take the protest to the "doorsteps of political institutions".in what was labelled as a 'Farewell Friday', huge rallies snaked into the city centre after the Friday prayers, and many parts of the country observed a shutdown with textile workers, journalists and transportation workers walking out of work and some joining the protesters.
As Mubarak dashed hopes of millions of his countrymen and global expectations by refusing to step down, the military Supreme Command Council met twice in less than 24 hours before announcing that it supported Mubarak's move to transfer some of his powers to Vice President Omar Suleiman.
Egyptian state-television interrupted its programme to read out the Council's "communique number 2" in which it vowed to lift the much-criticised emergency laws in the country, without specifying a date and said it would guarantee 'free and fair elections' in September, as outlined by Mubarak. But, in what appeared to be a warning to protesters, who for 18 days have been calling Mubarak to stand down after three decades in power, the military asked them to go home and get back to work.
The Council meeting presided over by Defence Minister Hussein Tantawi said it had agreed to "lift emergency law as soon as the current circumstances were over" and to hold "free and fair presidential elections based on constitutional amendments".
The communique said it would not take action against those calling for reforms but warned against any harm to the security of the nation.
The Army also asked the workers unions who have been on wildcat strikes for the last two days to go back to work. People, who were anticipating a more favourable
statement, were disappointed by the stand taken by the Army and vowed to carry their struggle to the last stage.
Labelling today's march, in which a call was given for millions to come onto the streets, as a 'Farewell Friday', hordes of people also started converging on Mubarak's Abedeen Palace and the state-television office, vowing to take the struggle to the "doorsteps of the political institutions", Al Jazeera reported.
As hundreds of people surrounded the radio and television building in Cairo, which they see as a mouthpiece of Mubarak's regime, some reports said several employees of the state television had quit jobs.
In a significant boost to the marchers, leading clerics of the Al Azhar mosque also joined their ranks after the Friday prayers.
Last night, a defiant Mubarak refused to step down immediately under any outside diktat and asserted that he will bow out only by September in a peaceful transition of power. Confounding reports that he was planning to hand over power to his Vice President Suleiman, a grim-looking 82-year-old Mubarak in a televised address said, "I will not accept to listen to matters dictated by countries abroad."
"I will remain adamant to shoulder my responsibility, protecting the constitution and safeguarding the interests of Egyptians (until the next elections)," he said, ignoring US President Barack Obama's suggestion to start the process of transition "now".
Expressing disappointment over Mubarak's announcement, Obama asked the Egyptian leader to explain in "clear and unambiguous language the step by step process that will lead to democracy in the country."
The people at Tahrir Square reacted angrily to Mubarak's refusal to quit and took off their shoes and waved them at a giant TV screen showing his speech, shouting "Leave, leave!"
'Down with Mubarak', they chanted as hopes about Mubarak's resignation had run high after the military leadership had announced hours earlier that it would step in
to ensure the country's security and see that the people's "legitimate" demands were met.
The build up for a celebrations turned into one of despair and widespread anger, and the protesters at Tahrir Square, shouted "donkey, leave!" Mass nationwide protests calling for Mubarak to step down erupted on January 25, leaving at least 300 people dead and scores more injured.
The protests, that have shaken the Arab world, have led to a major shake up in Egypt's ruling National Democratic Party, and an agreement on constitutional reforms between the regime and the opposition, but these developments have been shrugged off by the protesters as too little.
The Egyptians have said they will accept nothing less than Mubarak's departure. PTI