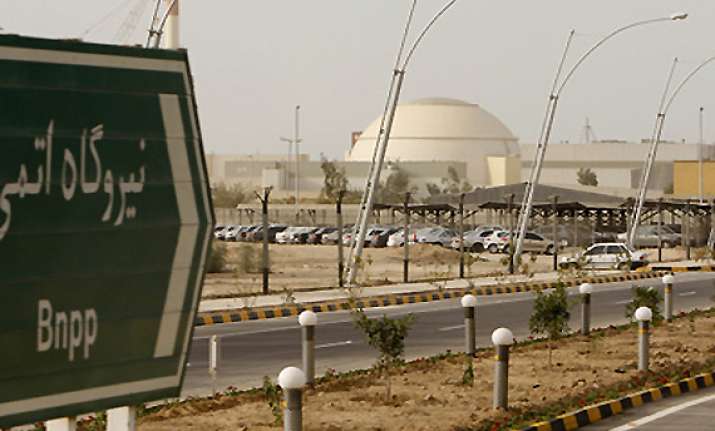 Tehran, Feb 15: Displaying defiance against toughening western sanctions, Iran today carried forward its controversial nuclear programme by loading domestically made fuel rods into its Tehran reactor and announced plans to cut off oil exports to six European countries.

"Approximately 6,000 centrifuges were working. 3,000 have been added to that amount. There are 9,000," President Mahmoud Ahmadinejad said in a speech broadcast on state TV and watched live throughout the world.




The President, who has been taking head on the US and other western powers, inserted the first Iranian made rods into the research reactor in northern Tehran at a ceremony, Iranian news agency IRNA reported.

Speaking on the occasion he also attacked the western countries for their "double talk" saying these are the countries which are stocking nuclear piles but preaching to others against it.

In a bid to blunt criticism of Iran's controversial nuclear programme, Ahmadinejad also unveiled radio medicines produced by Iranian specialists for prevention and treatment of hard to cure cancer diseases.




While the west has been suspicious of Iran's nuclear programme contending that it was aimed at producing atomic weapons, Tehran has been maintaining that it is geared only for peaceful purposes like energy production.

Notwithstanding the western penalties and UN sanctions, Iran claimed that today's development was a major step in its efforts to master technology on nuclear fuel cycle.

Simultaneously, the country's atomic energy organisation said it will start producing new yellow cake needed for its nuclear programme next year.



In other retaliatory action against sanctions, Iran said it was planning to cut oil exports to six EU countries, including Netherlands, Spain, Italy, France, Greece and Portugal.

Tehran said it will only sell oil to those European countries that agree to strike long term agreements and guarantee payments.


Tensions over Iran rose, following a series of suspected bomb plots against Israeli diplomats in different countries, including India and Thailand this week.

Iran has denied any involvement in the alleged plots. It rejected Israeli accusations that it was behind the "terrorist" acts.