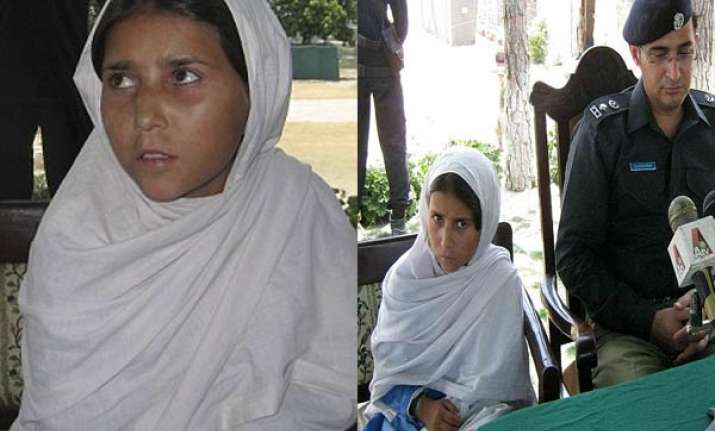 Peshawar, Jun 21: With a look of fear in her eyes, eight-year-old Suhana Jawed sits next to a police officer as she recounts how Pak taliban militants forced her to wear an explosives-laden suicide bomb vest and made her approach a paramilitary checkpoint, says a media report. 

Suhana, a student of class three, was on her way to school when she was grabbed by two women and forced into a car carrying two men, she said during a news conference.

One of the kidnappers put a handkerchief on her mouth that knocked her unconscious, Jawed said in an interview with a local TV station. When she woke up and started crying, one of the women gave her biscuits laced with something that again knocked her out, the child said. The next time she woke up she found herself in a strange home.

"They asked me to come close to them and then they placed a handkerchief on my face and I fell unconscious," she told the media.The girl said her abductors forced her to wear an explosive vest and then took her to a security check post in Balambat area of Lower Dir district.

They asked me to get close to the soldiers and sent me towards the check post to carry out a suicide attack. I ran towards the check post and raised an alarm," Suhana said.'This morning, the women and men forced me to put on the heavy jacket and put me in the car again,' said Jawed.

The suicide vest contained nearly 20 pounds of explosives and seemed to be designed to be set off remotely, Lower Dir police chief Salim Marwat said. 'Most likely it had to be detonated through a remote control since a minor was wearing it,' he said.The kidnappers brought her to a checkpoint run by the paramilitary Frontier Corps located about 6 miles outside Timergarah, the main town in Lower Dir district.

When they got out of the car, she sprinted toward the paramilitary soldiers to show them what she was wearing, said Marwat.'I got the chance to release my hand from the woman and run,' said Jawed.By the time the paramilitary soldiers realised what was happening, the kidnappers had escaped, said Marwat.

Police have launched a search operation to find them, he said. It is unclear why the kidnappers didn't detonate the suicide bomb vest after Jawed ran away. Marwat suggested they may have simply panicked and fled.Lower Dir district police chief Saleem Marwat said security forces rescued the girl and removed the suicide vest she was wearing.

Police are yet to arrest Suhana's abductors, who fled in a car after dropping her near the check post. Northwest Pakistan has witnessed scores of suicide attacks over the past four years.Hundreds of people have lost their lives in these attacks, most of which were carried out by the banned Pakistani Taliban.

Asif Khan, the police chief in the area of Peshawar where Jawed said she lived and was kidnapped, Hashtnagri, said they haven't received a complaint of a missing girl and haven't identified a resident with her name.

Police in Lower Dir plan to ask Jawed additional questions after she is examined by a psychiatrist, who is helping her cope with the trauma of her ordeal. 'Police will try to get more information from her once she gets normalised,' said Marwat.

It was the latest example of the inhumanity of Pakistani terrorists who today were responsible for the vehicle bombing of a street near a women's college.At least one person was killed and 12 others hurt in the bombing in the south-western Baluchistan province.In a separate development 12 people were killed in a suspected missile attack by a U.S. drone in a remote house in the Kurram tribal area, north-western Pakistan.