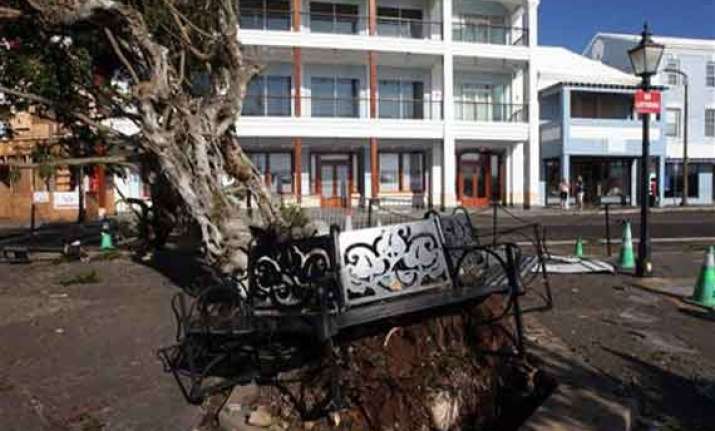 Hamilton, Bermuda: Crews cleared away downed trees and power lines Saturday after Hurricane Gonzalo battered this tiny, wealthy British territory for several hours but caused no deaths or serious injuries.
The storm's center crossed over Bermuda late Friday and Gonzalo quickly moved northward over the Atlantic on a track that could take it just off the shore of Newfoundland in Canada early Sunday.
More than 18,000 homes in Bermuda were still without power Saturday night, but Premier Michael Dunkley said cleanup efforts were going smoothly. He said the U.S., Britain and other nations have offered assistance.
"All hands were on deck and worked very well," he tweeted Saturday night. "Much to be done but we are roaring back!"
Gonzalo approached Bermuda as a Category 3 storm then weakened to Category 2 strength just before coming ashore with sustained winds of 110 mph (175 kph). Even after beginning to move away, its fierce winds battered the island for hours.
Maria Frith, who owns Grape Bay Cottages on Bermuda's south coast, said in a phone interview that the hurricane woke her up before dawn when it tore the patio roof off her house.
"To be perfectly honest with you, I was terrified, partly because of the noise," she said. "It was really scary."
Some Bermudians woke up to toppled concrete walls, uprooted palm trees and boats run aground. Gonzalo ripped part of the roof off the island's legislature as well as the roof of an exhibit at the Bermuda Aquarium, Museum & Zoo.
No catastrophic damage was reported on Bermuda, which has one of the highest per-capita incomes in the world and is known for strict building codes meant to ensure homes can withstand sustained winds of at least 110 mph (177 kph).
Officials had not yet announced whether government offices and schools would reopen Monday. The island's international airport remained closed Saturday night but officials said it might reopen Sunday afternoon.
The last major hurricane to strike Bermuda was Fabian in September 2003. That Category 3 storm killed three police officers and a civilian and caused more than $100 million in damage.
The island was still recovering from last weekend's blast from Tropical Storm Fay, which also damaged homes and toppled power lines.
"To be struck twice by two different cyclones is unusual, to say the least," said Max Mayfield, a former director of the U.S. National Hurricane Center in Miami.
The U.S. National Hurricane Center said Gonzalo weakened as it moved away from Bermuda on a track that would take it past Newfoundland and then across the Atlantic to Britain and Ireland.
Canadian Hurricane Center officials said the storm wasn't expected to remain a hurricane by the time it neared Canadian waters, but there was a 20 percent chance it would make landfall as a post-tropical storm before dawn Sunday. Officials said there could be some flooding.
Forecasters said hurricane-force wind warnings were in effect for the Grand Banks area, where three major offshore oil installations are located. Operators of the Hibernia, Terra Nova and SeaRose sites announced no plans to evacuate the three crews, which generally total more than 700.
Across the Atlantic, Britain's meteorological agency issued an alert for strong winds and heavy rain expected Tuesday from the remains of Gonzalo. It warned of the potential for significant disruption of travel and difficult driving conditions.
On Saturday night, Gonzalo was centered 470 miles (760 kilometers) southwest of Cape Race, Newfoundland, with maximum sustained winds of 90 mph (150 kph) as it moved north-northeast at 39 mph (63 kph).
The storm earlier claimed one life in the Dutch territory of St. Maarten and the hurricane center said it could still whip up dangerous surf on portions of the U.S. coast and Canada.
In southern Mexico, the brief Tropical Storm Trudy was downgraded to a tropical depression as it continued to dump heavy rain. Authorities warned of the danger of flash floods and landslides.
Also in the Pacific, Hurricane Ana was carving a path south of Hawaii, producing high waves, strong winds and heavy rains that prompted a flood advisory. The center of the storm was about 190 miles (306 kilometers) west of the Big Island and about 150 miles (241 kilometers) southwest of Honolulu, the National Weather Service said.
There was little chance for hurricane conditions on the islands, but a tropical storm watch remained in effect for Oahu and Kauai and the strongest winds were about 80 mph (129 kph).