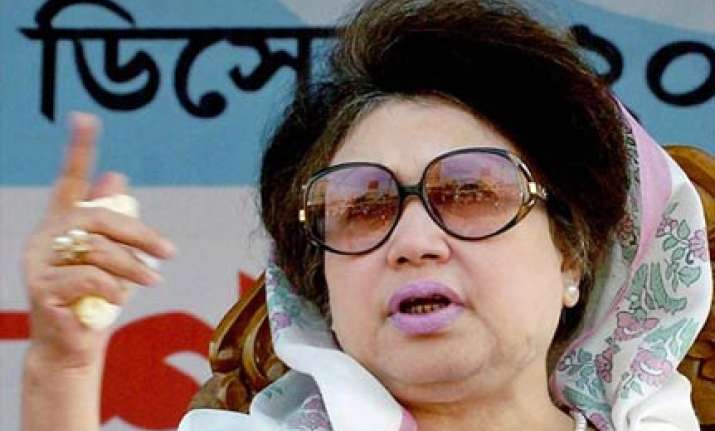 Dhaka, Nov 13 :  Bangladesh police and paramilitary forces today laid a siege around opposition BNP chief Khaleda Zia's cantonment residence as the Army said a process was underway to regain possession of the posh house in line with a High Court judgement.
Witnesses and television reports said several hundred policemen and Rapid Action Battalion (RAB) forces were deployed in front Zia's residence while BNP leaders alleged she was under house arrest and they could not even contact them over phone.
"She is under house arrest, we could not even contact her," BNP secretary general Khondker Delwar Hossain told newsmen at the party office while party activists at different parts of the city staged violent protests pelting stones on vehicles prompting police chases.
The Army in a statement said it is the responsibility of all to execute the HC judgement regarding Khaleda Zia's Cantonment house and "we are bound to implement this judgement."
"The deadline for vacating the house expired yesterday and as concerned authorities the Cantonment Board's efforts are underway to enforce the High Court judgement" that had allowed Zia to stay at the posh residence for 30 days," Inter Service press Relations (ISPR) director Shahinul Islam told newsmen at the entrance of the cantonment barracks.
Islam said, the Cantonment Board, however, expected Zia to "abide by the court judgement."
The ISPR chief rejected a the opposition claim on the arrest but said "we are trying to contact her inside the house".
The development came as several newspapers today carried a report quoting unidentified BNP and army sources that the opposition was preparing the quit the house as she already moved some household items from there in the past several days.
The newspapers also carried a comment by ruling Awami League spokesman Mahbub-ul Alam Hanif appreciating Zia for her move to vacate her Cantonment residence and calling it a "wise decision" on the part of the opposition leader.
But the BNP secretary general said Zia had no plan to vacate the house and that was why "she preferred an appeal in the apex court against the High Court verdict."
Attorney general Mahbubey Alam two days ago warned ZIA against her possible exposure to "contempt of court" and eviction from posh cantonment residence unless she vacated it by Friday. PTI