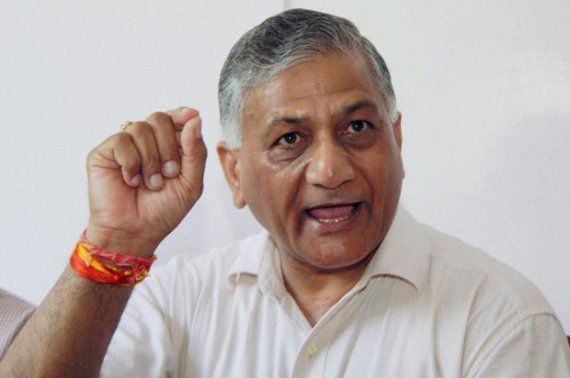 Beijing: India today said plans are afoot to form a regional airline to improve air connectivity in eight North Eastern states, including Arunachal Pradesh, besides accelerating the development of rail and road networks in the remote region.
On a visit to China to attend a conference on the peace and security in Afghanistan, Minister of State for External Affairs and North East Region V K Singh declined to comment on different perceptions India and China have on development of the border region due to the boundary dispute.
Singh, who was the former Army Chief, gave a broad outline about how development plans are being carried out to improve the infrastructure and employment opportunity in the eight states including Arunachal Pradesh which China claims as Southern Tibet.
He said a regional airline is being contemplated to operate small aircraft which can carry passengers and connect them to Air India at a bigger airports.
He specially spoke of Arunachal Pradesh where an airport is coming up at its capital Itanagar.
Land problem has been sorted and the airport is coming up, he said listing out two other small airports in the border state.
"Hopefully Tawang will take aircraft some day but it will take time," he said referring to the border town.  An airport is difficult there due to problems in acquiring the land as it was a hilly area, he said.
Singh said after the new government came to power, 58 per cent increase in railway budget allocation has been made for the region and accelerated efforts were being made to develop highways in the area.
Also inland water ways over Brahmaputra and Barrack are being developed, he said.
On concerns over China constructing dams over Brahmaputra rive, he said an integrated study of the Brahmaputra basin is being carried out, specially the water availability of its tributaries.
The study will provide the data needed to assess Brahmaputra water flows, he said.
First priority is to develop infrastructure in all the eight North East states, followed by job creation and skill development.
The first skill development school in Guwahati and soon other states too will have a school each, he said.  Besides Arunachal Pradesh eight North East states are:
Assam, Manipur, Meghalaya, Mizoram, Nagaland Tripura and Sikkim.