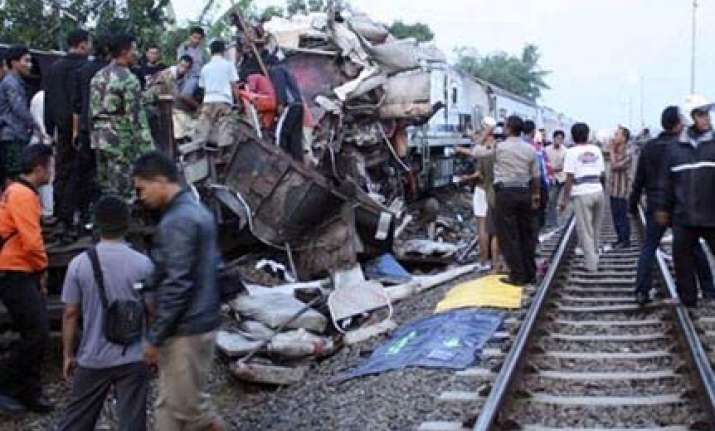 JAKARTA: A train crash in central Indonesia killed at least 43 people and injured dozens on Saturday, many of them critically, officials and witnesses said. The toll was expected to rise with some bodies still trapped in the mangled wreckage.  
The accident occurred at a station in Petarukan, a city on the northern coast of Central Java province, at around 3 a.m. local timeas many passengers were sleeping, witnesses told TVOne.
Cendana Banandi, a government life insurance official, told AP  that by midmorning the total number of dead from three separate hospitals stood at 43.
He says another 50 were injured, many of them seriously. Meanwhile, another passenger train crashed in the town of Solo at around 4 a.m., said Transportation Ministry spokesman Bambang Ervan, adding data was still being collected about casualties.
An official at a public hospital who identified himself only as Peter told Metro TV and El Shinta that one person had died in that crash.
Indonesia -- with a reputation for poor safety standards and maintenance -- has been hit by a series of plane, train and ferry accidents in recent years that have left hundreds dead.
Ervan said it was not yet clear what caused the first, more deadly crash. "We're still investigating to see if it was due to negligence of the driver or because signaling equipment on one of the trains was faulty," he said.  Videos: One