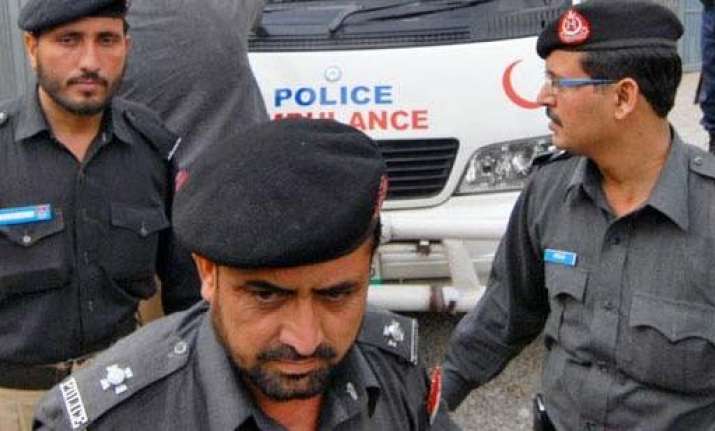 Karachi, Nov 11: At least 18 people were killed and 80 others injured today when a powerful car bomb destroyed the office of the CID, spearheading the drive against Taliban militants in Pakistan's financial capital near the Sindh Chief Minister's official residence.
The blast occurred at around 8.20 p.m. at the office of the Crime Investigation Department (CID) located in the heart of Karachi at a short distance from the Chief Minister's residence and several five-star hotels.
Police and rescue officials said the bomb exploded in the compound of the CID building after an unsuccessful attempt by some militants to break into the two-storey building that was reduced to rubbles by the blast, with nearby houses and offices also feeling the impact of the powerful explosion.
State-run PTV reported that the CID office had been reduced to rubble by the explosion. Most of the dead and injured were police personnel and members of their families, who lived in residential quarters near the CID office.
Geo News channel reported that the banned Tehrik-e-Taliban Pakistan (TTP) had claimed responsibility for the attack. The TTP said their next target was the President's House in Islamabad."Some 10 policemen have been killed in the attack," the Ary channel said.
The blast left a crater about 40 feet (12 metres) across and 12 feet (four metres) deep in front of the CID building.The explosion was so powerful that its impact was felt some kilometres away on the busy I.I. Chundrigar road with offices reporting broken windows and panes.
The PTI correspondent, who was sitting in an office building some 1.5 kilometres away, had to take cover as the impact of the blast shattered the windows and AC panes.
Television channels reported the casualties between 15 and 18, but rescue officials said they were still trying to clear the debris of the building.
Channels showed footage of the blast site with rescue workers carrying people on stretchers into ambulances, dazed civilians stumbling in the street and a mass of twisted metal.
In 2002 suicide bombers had struck at one of the five-star hotels, Sheraton, killing 12 French naval technicians after which the government had declared the area a red zone with high security.
On Wednesday the CID had in a successful operation arrested six activists of the banned Lashker-e-Jhangvi from their hideout in Peerabad area of the city, recovering large cache of arms and explosions.
The militants of the banned outfit were reportedly in the CID centre on remand that was obtained from the court today by its investigation cell.
The blast, which took place at peak rush hours when office goers were returning home from office, caused complete panic with massive traffic jams near the blast site as rescue officials and ambulances struggled to reach the CID centre.PTI