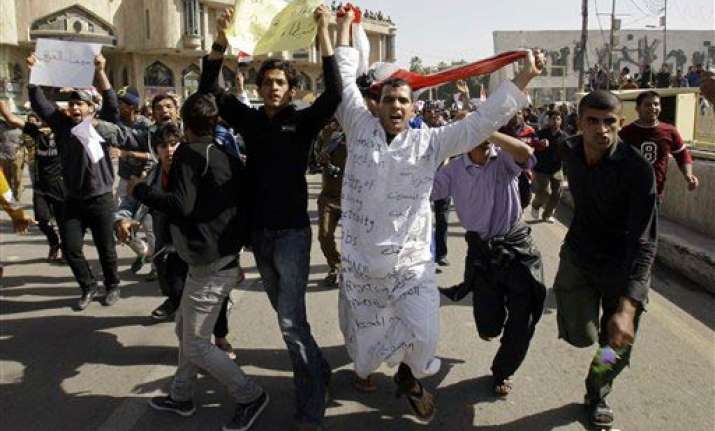 Baghdad, Feb 25: Security forces used water cannons and tear gas to disperse thousands of angry protesters in Baghdad today as a "Day of Rage" across Iraq left 15 demonstrators dead in clashes with police.
Around 5,000 people thronged Baghdad's Tahrir Square,with angry crowds throwing stones, shoes and plastic bottles at riot police and soldiers blocking off a bridge connecting the site to Baghdad's heavily fortified Green Zone, home to the US embassy and parliament.
The protest was the biggest of at least 17 separate demonstrations across the country, some sparking clashes in which more than 130 people were wounded, according to an AFP tally based on accounts by officials.
Four government buildings were also set ablaze and one provincial governor resigned.By evening, most of the crowd in Baghdad had left and security forces refused to allow anyone to enter the area surrounding the square.An AFP journalist said security forces had used a water cannon and tear gas in a bid to disperse the crowd. An interior ministry official said 15 people were wounded.
During the protest, demonstrators overturned two concrete blast walls on Jumhuriyah bridge, spurring lines of anti-riot police and soldiers to assemble, blocking it off.
Security was deployed in force, imposing a city-wide vehicle ban after Prime Minister Nuri al-Maliki claimed Al-Qaeda insurgents and loyalists of deposed dictator Saddam Hussein were behind the demonstrations.
Following the conclusion of today's protests in Baghdad, Maliki said in a statement that Iraqis behaved responsibly, and said the country "did not give a chance to terrorists to take action."Rallies in Iraq have called for improved public services, more jobs and less corruption, and some for broader political reforms.
Rated the fourth-most corrupt country in the world by Transparency International, Iraq suffers from poor electricity and water provision, as well as high unemployment nearly eight years after the 2003 US-led invasion.
MP Sabah al-Saadi, who turned up at the Baghdad protest, was met with shouts and jeers, with one protester asking: "Why are MPs taking millions of dinars (thousands of
dollars) in salaries?""You have to cut your salary -- we have nothing! Why are you taking so much money when we have no money?" (AFP)