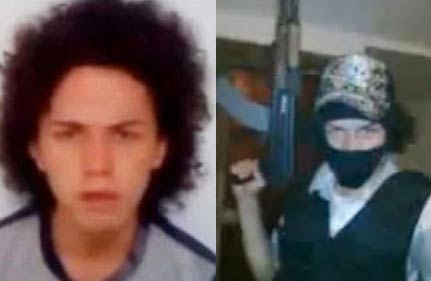 His name is El Ponchis, meaning The cloak. He is just 12 years old. He is the sadistic executioner whose killings have terrorised Mexico, reports daily Mail, London.
The diminutive hitman, whose real name is not known, is in the pay of a Mexican cartel battling for control of the cocaine trade. He works alongside a posse of women dubbed the Chavelas, who are responsible for dumping the bodies of his victims.Some of them are believed to be his sisters.
A Mexican Army spokesman said: 'We understand El Ponchis works under the command of Julio Jesus Radilla.
'El Ponchis was identified as the paid executioner of Radilla's enemies. These victims were tortured, their throats cut and bodies dumped at roadsides.'Gruesome videos of El Ponchis torturing and executing his enemies have been circulated online.
His favoured technique is to slit the throats of his victims using a cutting technique which leaves the head hanging by a thread.
The killer has also posed for photographs wielding a rifle and standing beside a body.
El Ponchis works for the South Pacific Cartel (SPC) which operates in Morelos, Mexico, and is headed by Radilla.
Most of its members are between 12 and 23. They are behind a number of brutal massacres and Radilla and El Ponchis reportedly escaped when the Mexican army raided an SPC base in the town of Tejalpa last month.
Latest figures suggest more than 50 people are killed by drug cartels every day. The death toll for the year is set to exceed 18,000.
mexican family gunned down
The drug war has fuelled violence across the country. Here, Mexican Army soldiers guard the area after a group of armed men opened fire on a family, leaving three dead and three wounded