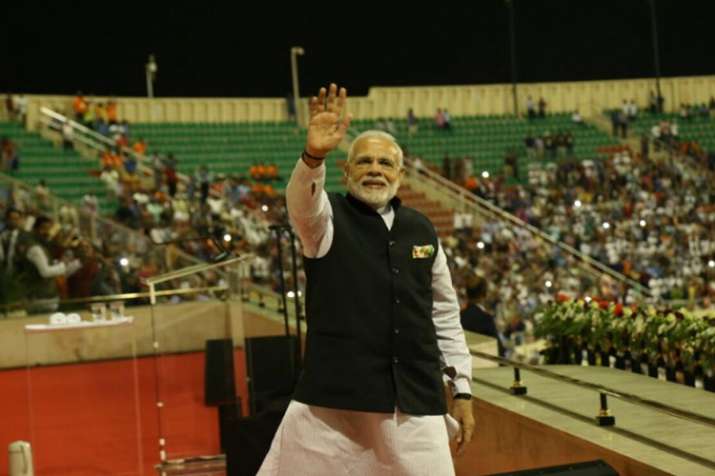 Prime Minister Narendra Modi said on Sunday night that his government is working hard to make the life of citizens easier with the mantra of "minimum government, maximum governance". 
Addressing the Indian diaspora at the Sultan Qaboos Sports Complex in Oman's capital where he arrived this evening on a two-day visit, PM Modi said, "Minimum-government, maximum-governance.. with this slogan we are trying to promote easy of living for everyone"
"The country cannot progress in the 21st Century with a style of misgovernance. The long list of scams (in previous regime) had harmed India's image. We have worked hard to bring out the country from that phase of misgovernance," he added.
Modi said his government has scraped 1400-1450 outdated laws, made procedures simple, pays attention to people's problems with sincerity and take action on them as part of efforts to change the culture of governance in new India. 
"All of us are working towards a 'new India' where the poorest of the poor can strive to achieve their dream," Modi told a cheering crowd during his hour-long speech.
"The people have already started to feel a change," he said, amid chants of 'Modi Modi'. 
The Prime Minister said that his government is developing next generation infrastructure in the country keeping in mind the needs of 21st century. 
"We are working towards making transportation sector co-dependent. Highway, airway, railway and waterway are being integrated together according to each other needs," he said. 
Modi said in new India, there are no scams and decisions are no longer avoided. He said challenges are accepted and targets are achieved. "This is the example of a changing work culture in new India," the prime minister said.
"When decisions are made with pure intent and clear policy, the nation saves money. When the existing resources are best utilised, the country saves money," he said, citing examples of how his government has saved one lakh and 40 thousand crore rupees through increased efficiency. 
"We renegotiated the oil deals (signed by the previous regimes) with Qatar and Australia and now we have to pay Rs 12,000 crores less that what we would have paid," he said. 
"With the help of technology, our government used direct benefit transfer scheme and saved over Rs 57,000 crore of money which could have gone into wrong hands," he added. 
He said in this year's annual budget, his government had introduced insurance for 10 crore poor families which can avail benefit of five lakh rupees annually. 
"Even out detractors are not opposing the scheme but asking how will it be possible? I just say India is country which once decides, completes the task," he said.
Modi told the members of the Indian community that they are partners in realising the vision of new India. 
"The eight lakh Indians in Oman are good-will ambassadors who have contributed to the development of the country. I get a feeling of home in Oman. This is possible only because of the people and the leadership of Oman," he said. 
The Prime Minister said that the fact that he delivered the inaugural address at the World Government Summit in Dubai shows that India's stature is growing. 
"For the last three years, we have been improving India's relationship with the Gulf countries," he said, adding that with India's increasing progress and credibility, the Gulf countries have increased their interest in the country.
Modi said the ties of India and Oman have always remained strong despite the ups and downs in the political environment in both the countries. 
He also said that Indian diaspora has played an essential role in strengthening these ties. 
India, UAE to work together to fulfil Indian diaspora dreams: PM Modi
Earlier in the day, India-UAE ties go beyond trade and both countries will work together to fulfil the dreams of the Indian diaspora in the Gulf country.
"I assure you that we will work together to bring to reality the dreams you see, here and in India," Modi said.
He was addressing hundreds of Indians working in the UAE who had gathered at the iconic Dubai Opera House here to listen to him.
"Our relation with the UAE is not just that of a buyer and a seller. It has become much more," Modi said in his speech in Hindi.
He thanked the Gulf countries -- a home to nearly 3.3 million strong Indian diaspora -- for providing them "a home away from home".
Modi also witnessed through video-conferencing the foundation stone-laying ceremony of the Bochasanwasi Shri Akshar Purushottam Swaminarayan Sanstha (BAPS) temple on the Abu Dhabi-Dubai highway.
The ground-breaking ceremony of the first Hindu temple in Abu Dhabi was live-streamed to the Dubai Opera House.
Modi thanked Crown Prince of Abu Dhabi Mohamed bin Zayed Al Nahyan on behalf of 1.25 billion Indians for the construction of the temple.
"I believe this temple will not only be unique in terms of architecture and splendour, but will also give a message of 'Vasudhaiva Kutumbakam' (the world is one family) to people across the world," Modi said.
Wooing UAE businessmen to invest in India, Modi said India's leap in World Bank's ease of doing business rankings from 142 to 100 was "unprecedented, but we are not satisfied".
"We want to do better. We will do whatever it takes to make it possible," Modi said.
This is Modi's second visit to the UAE after his trip in 2015.
(With inputs from PTI, IANS)