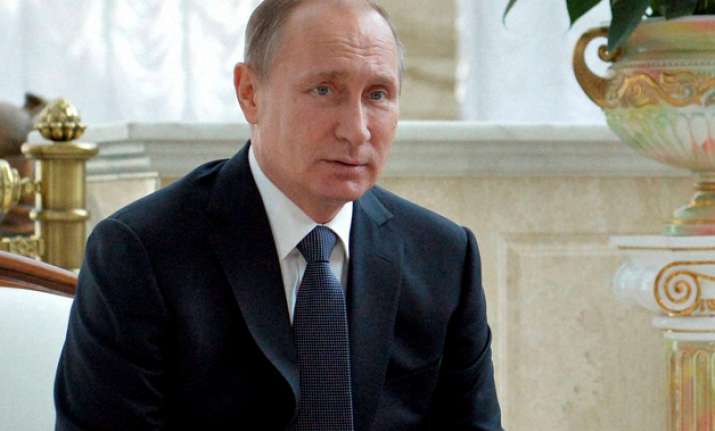 Moscow: Over 5 months after he ordered the launch of a military operation that shored up his ally Syrian President Bashar al-Assad, Russian President Vladimir Putin on Monday ordered his country's armed forces to start pulling out of crisis-hit country.
At a meeting in the Kremlin with his Foreign and Defense ministers, the President said that said Russian military forces in Syria had largely fulfilled their objectives and hope the move will contribute to the success of Syria peace talks.
He said that the Russian air campaign allowed Syrian President Bashar Assad's military to turn the tide of war and helped create conditions for peace talks.
"With the tasks set before the Defense Ministry and the military largely fulfilled, I'm ordering the Defense Minister to start the pullout of the main part of our group of forces in Syria, beginning tomorrow," Putin said.
He didn't specify how many planes and troops should be withdrawn.
He emphasized that the Russian airbase in Hemeimeem in Syria's coastal province of Latakia and a naval facility in the Syrian port of Tartous will continue to operate. The number of Russian soldiers in Syria has not been revealed.
The UN special envoy for Syria, Staffan de Mistura, who restarted peace talks between the Syrian government and the opposition in Geneva on today, said he had no comment on Putin's announcement.
Earlier in the day, he warned that the only alternative to the negotiations is a return to war, and described political transition in the country as "the mother of all issues."
The Russian- and US-brokered cease-fire that began on February 27 has largely held, but both the Syrian government and its foes have accused one another of violations.
The Islamic State group and al-Qaida's branch in Syria, the Nusra Front, are excluded from the cease-fire.
Putin said today's move would send a "good signal" to the parties to the conflict, help raise trust and help serve as a stimulus for Syria's political talks.
Putin added that the Russian troops will continue to oversee the observance of the Russian- and US-brokered cease-fire.
Moments before meeting with a Syrian government envoy, in Geneva, de Mistura laid out both high stakes and low expectations for what is shaping up as the most promising initiative in years to end the conflict that moves into its sixth year tomorrow.
At least a quarter of a million people have been killed and half of Syria's population has been displaced, flooding Europe with refugees.
The Geneva talks come as the truce helped vastly reduce the bloodshed and allowed the recent resumption of humanitarian aid deliveries to thousands of Syrians in "besieged areas" - zones surrounded by fighters and generally cut off from the outside world.
With AP Inputs