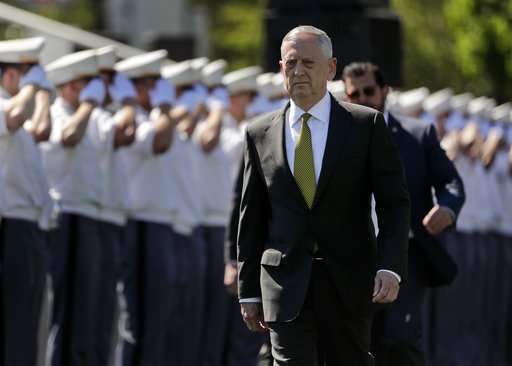 US Defence Secretary Jim Mattis on Thursday said that Washington intends to work with Islamabad to take down terrorists. He also added that this is what a "responsible" nation does. His remarks came in response to questions on Pakistan's reaction to the Afghan and South Asia Policy announced by US President Donald Trump last Monday.
Trump hit out at Pakistan for providing safe havens to terror groups that kill American soldiers in Afghanistan. He also warned Pakistan that it has "much to lose" by harbouring terrorists.

 

Mattis did not respond to questions on timeline, if any, for Pakistan to take action against terrorists and terrorist groups. 
"We intend to work with Pakistan in order to take the terrorists down. I think that's what a responsible nation does," Mattis said at a media briefing. 

 

His remarks came after the State Department notified to the Congress to place a pause button on USD 255 million foreign military financing for Pakistan.  The Department notified Congress on August 30 of its intent to obligate the amount in 2016 Foreign Military Financing (FMF) for Pakistan. 
"At the same time, the Department is placing a pause on spending those funds and on allocating them to any specific FMF sales contracts," a State Department Spokesperson told PTI. 
"Consistent with our new South Asia strategy, this decision allows us the flexibility to continue reviewing our level of cooperation with Pakistan prior to committing new security assistance resources to projects in Pakistan," the official said. 
The Trump administration notified Congress on Wednesday that it was putting USD 255 million in military assistance to Pakistan into the equivalent of an escrow account that Islamabad can only access if it does more to crack down on internal terror networks launching attacks on neighbouring Afghanistan, The New York Times reported.
 "As this relates to Foreign Military Financing (FMF), before moving forward with funding actual FMF cases, the United States will take into account Pakistan's efforts to address key US concerns, including the threat posed by the Haqqani Networks and other terrorist groups that enjoy safe haven within Pakistan," the spokesperson said.  Pakistan has cancelled at least three high profile meetings with senior American officials, including a visit of Pakistan Foreign Minister Khawaja Asif to the US to meet Secretary of State Rex Tillerson. 
Pakistan National Assembly passed a resolution alleging that the recent statements of the US President and his senior officials on Pakistan were hostile and threatening. 
The US, however, insists that it wants Pakistan to take action against terrorist groups.