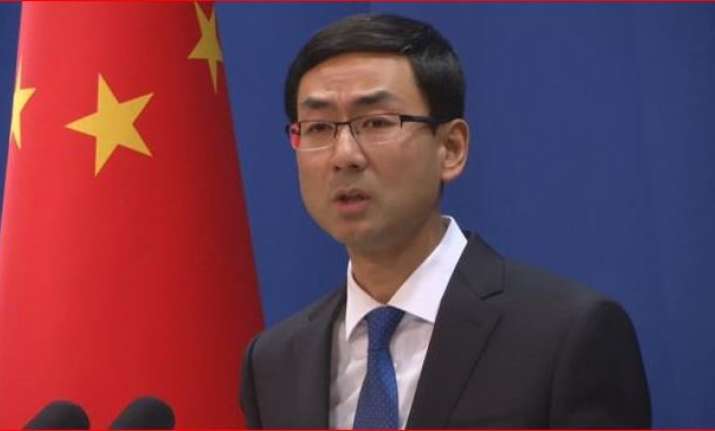 Reiterating that India has violated the 1890 treaty between Britain and China, Beijing on  Friday accused New Delhi of having "ulterior motives" in including the tri-junction with Bhutan in the Sikkim standoff .
In a statement, China's Foreign Ministry spokesperson Geng Shuang said that New Delhi's acceptance of the 1890 Sino-British treaty on the boundaries in the area should not change with the passage of time.
"The so-called tri-junction point as the name implies is a point instead of a line or an area," Geng Shuang said.
Geng Shuang claimed that the 1890 convention between Great Britain and China clearly shows that the Sikkim section of the boundary commences from the east of Mount Gipmochi.  
He also alleged that the place where Indian troops "trespassed" was 2,000 meters from the point marked by China as the tri-junction border between India, China and Bhutan.
 "The illegal trespass by the Indian troops took place at the Sikkim section of the India-China boundary, 2,000 metres away from the Mount Gipmochi," he said, while asserting that the issue has "nothing to do with tri-junction point".
The spokesperson denied having any information when asked to provide details of the exact coordinates of the tri-junction. 
Geng also justified China's road building in the disputed area, saying that it is not part of the Doklam area. 
He further questioned India's position that Doklam is part of the strategic tri-junction also known as the Chicken's Neck.
"In disregard of the boundary convention, the Indian side takes entire Doklam area as part of the tri-junction. That is out of ulterior motives," Geng said.

 

"The Indian side introduced the idea of the tri-junction point into the incident in an attempt to enlarge the point into an area that is absurd and has ulterior motives," he claimed.
India and China have been engaged in the standoff in the Doklam area near the Bhutan tri-junction for the past three weeks after a Chinese Army's construction party attempted to build a road. Doka La is the Indian name for the region which Bhutan recognises as Dokalam, while China claims it as part of its Donglang region.
The new development follows a verbal spat between India and China over the issue when Defence Minister Arun Jaitley shot off a terse response to Beijing when it told India to heed 'historical lessons'. Jaitley said India of 2017 is different from 1962. To this Beijing replied saying: Just like India, China too is different from 1962.
(With agency inputs)