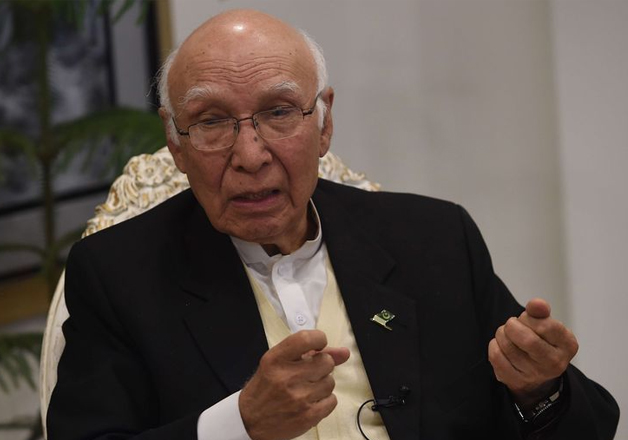 Pakistan Premier Nawaz Sharif's adviser on Foreign Affairs Sartaj Aziz will travel to India next month to attend the Heart of Asia Conference to be held in Amritsar.
Aziz, according to Pakistan's media, has suggested that the December 3 visit could be used to 'defuse the tension' between the nuclear-armed neighbours.
"Unlike India, that had sabotaged SAARC Summit in Pakistan by pulling out, Pakistan will respond by participating in the Heart of Asia being held in Amritsar, India, on December 3," PTV News quoted Aziz as saying on Tuesday.
The Adviser said that he himself will participate in the conference.
Aziz, however, said that it has not been confirmed yet whether he will meet his Indian counterpart on the sidelines of the conference or not.
"Despite the fact that Indian forces killed our seven soldiers along Line of Control on Monday, Pakistan will not boycott the conference," Aziz maintained.
Aziz's trip to India will be the first by a senior Pakistani official since militants backed by Islamabad killed 19 Indian soldiers in Uri town of Jammu and Kashmir in September.
The Heart of Asia conference focusing on Afghanistan is due to be held in Amritsar, close to the Pakistani border. The conference will seek ways to help improve security and bring peace to Afghanistan, which has been mired in conflict since a US-led coalition toppled the hardline Taliban government in 2001.
Relations between Afghanistan and Pakistan have also been strained over the past year, with Kabul accusing Islamabad of harbouring the leaders of Taliban and seeking to meddle in Afghan affairs. Pakistan, has, however denied the charges.
Last year in December, the meeting of the Heart of Asia process was hosted by Pakistan and External Affairs Minister Sushma Swaraj had attended it after which she had a bilateral talks with Aziz. 
The two sides had also announced resumption of Comprehensive Bilateral Dialogue (CBD), but the decision was cancelled following Pathankot attack by Pakistan-based militants.
India had recently boycotted the South Asian Association for Regional Cooperation (SAARC) summit which was scheduled to be held in Islamabad earlier this month. New Delhi, backed by other members of the group (Bangladesh, Afghanistan, Bhutan and Sri Lanka), had accused Islamabad of not creating a favourable situation for the annual event.