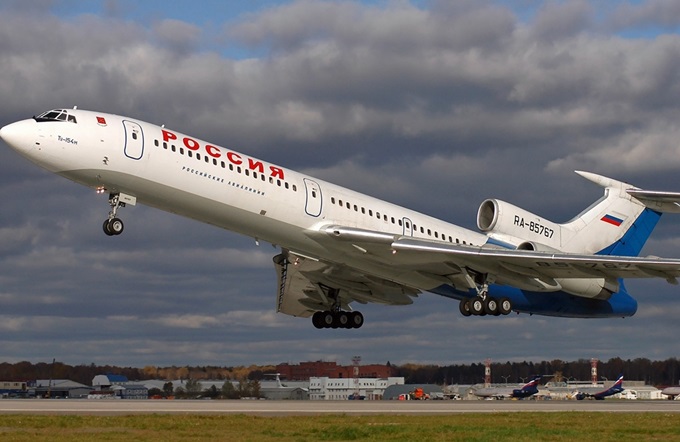 A Russian Defence Ministry plane carrying over 90 people onboard crashed into the Black Sea shortly after taking-off from the resort city of Sochi today, authorities said.
The Emergencies Ministry confirmed the crash of the missing Tu-154 plane, saying that the debris of the aircraft along with personal belongings of the people onboard -- 83 passengers and eight crew members -- were discovered in the Black Sea, media reports said.
#FLASH Debris from missing Russian military plane found in Black Sea (Source: AFP)

— ANI (@ANI) December 25, 2016
"According to preliminary findings, the missing TU-154 arrived in Sochi from Chkalovsky airport in Moscow region for refuelling. Most likely, it crashed in mountainous area of Krasnodar territory," an Emergencies Ministry official told a news ageny.
The source said the disappeared plane was heading to Syria's Hmeimim airbase. 
Russian military plane that disappeared from radars after takeoff from Sochi was carrying 91 passengers: AFP

— ANI (@ANI) December 25, 2016
The possible reasons for the crash could be technical malfunction or pilot error.
The source added that the plane disappeared from radars 20 minutes after takeoff from Sochi Adler Airport. It departed at 5.20 a.m., and the contact was lost at about 5.40 a.m.
Journalists, military personnel, musicians from Alexandrov Ensemble, an official army choir of the Russian armed forces, were onboard.
The Federal Air Transport Agency (Rosaviation) told Sputnik News Agency that the flight was "not civilian". 
The Tu-154 is a three-engine medium-range airliner produced by Russian aerospace and defence company Tupolev. 
It is one of the fastest civilian aircraft in use and widely used in extreme Arctic conditions.
(With IANS reports)