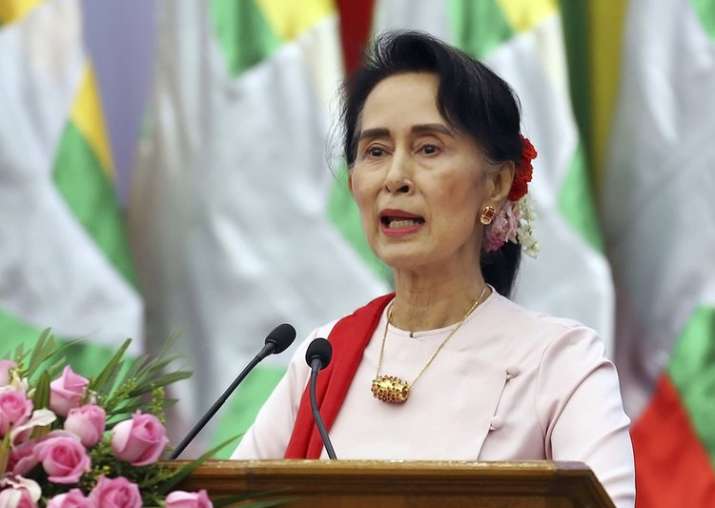 Myanmar civilian leader Aung San Suu Kyi today denied going "soft" on military and added that her relationship with the generals was normal and her objective was national reconciliation, a Reuters report said.
"We've never changed our stand," the Myanmar civilian leader said in an interview with Radio Free Asia. "Our goal has been national reconciliation from the very beginning. We have never criticised the military itself, but only their actions. We may disagree on these types of actions."
"We'll continue to bring changes within the parliament. I've stood firm with the military before, and still do now," she told Radio Free Asia.
The comments came a day after the Amensty International said that she and her government are "burying their heads in the sand" over the violence in the Rakhine state.  "Refugees who have fled to Bangladesh cannot return to this appalling status quo. At times her speech amounted to little more than a mix of untruths and victim blaming," the rights group was quoted by AFP as saying.
After a mass exodus of Rohingya Muslims sparked allegations of ethnic cleansing, the Myanmar's state counsellor Suu Kyi said her country does not fear international scrutiny.
She told the world that even with an estimated 412,000 Rohingya fleeing to Bangladesh in less than a month as their villages burned and hundreds were killed, the "great majority" of Muslims within the conflict zone stayed and that "more than 50 per cent of their villages were intact."
The Nobel Peace laureate's global image has been damaged by violence since Rohingya insurgents attacked Myanmar security forces on August 25. Rohingya fled their villages in the military crackdown that followed. Many of their villages were in flames when they left.
The government has blamed the Rohingya themselves, but members of the persecuted minority have said soldiers and Buddhist mobs attacked them.
Myanmar must take back Rohingyas, says Bangladesh PM Sheikh Hasina
Bangladesh's Prime Minister Sheikh Hasina today said that Myanmar should take back some 420,000 Rohingya Muslims who have fled violence in the Buddhist-dominated country, news agency AFP reported.
"We have told Myanmar, they are your citizens, you must take them back, keep them safe, give them shelter, there should not be any oppression and torture," Hasina, who is attending the United Nations General Assembly, said.
The Bangladeshi prime minister, speaking to Bangladeshi activists in New York, even said Dhaka was making diplomatic efforts to persuade Myanmar to take back the refugees.