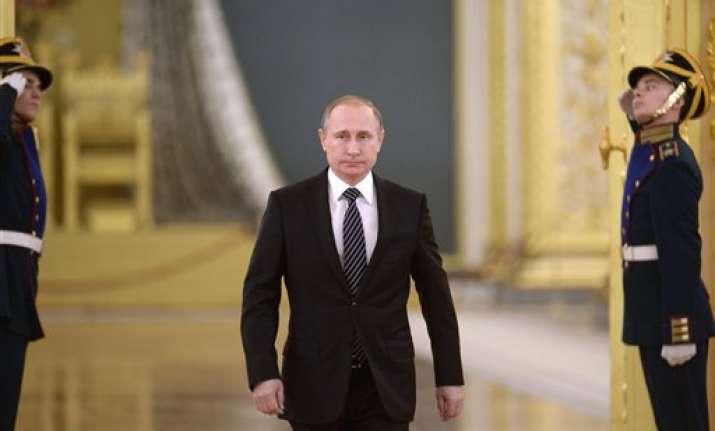 Moscow: Close on the heels of Russia's pullout from Syria, President Vladimir Putin today signalled the nation's intentions of maintaining its role in Syria despite its partial military withdrawal. President Putin warned that Moscow could still build up its forces within "a few hours" if needed and will continue helping the Syrian army fight extremist groups.
Putin recalled some of Russia's warplanes from Syria earlier this week and said that Moscow will keep enough forces there to continue the fight against the Islamic State group, the Nusra Front and other extremist organizations. It will also continue to boost the Syrian military with weapons, training and operational guidance.
In an apparent warning to Turkey, Saudi Arabia and others who had talked about the possibility of sending troops into Syria, Putin also emphasized that the Russian military will keep all its air defense missile systems, including the powerful S-400s, at its air base in Syria. It will stand ready to use them "against any targets that we would consider a threat to our servicemen," he said.
Putin's statements underlined his intention to maintain a strong military presence in Syria to consolidate the military and political gains achieved in Russia's 5 ½-month air campaign. That campaign has helped turn the tide of war and allowed Syrian President Bashar Assad's forces to make significant advances ahead of peace talks, and established Russia as a major player in the diplomatic effort to determine Syria's future.
Speaking during a Kremlin ceremony honoring Russian military officers who have taken part in the Syrian campaign, Putin said that the action in Syria has demonstrated Russia's "leadership, will and responsibility" in fighting "enemies of civilization."
Russian warplanes have conducted more than 9,000 combat missions since the air campaign began on Sept. 30, allowing the Syrian army "to gain strategic initiative," Putin said.
He said the action in Syria cost the military about 33 billion rubles (about $480 million), adding that the Defense Ministry already had those funds earmarked for maneuvers and used them instead to finance the Syrian campaign.
"There is no more efficient way of training than real combat," he said, adding that the military action in Syria allowed the Russian armed forces to test their long-range cruise missiles and other new weapons in real action for the first time.
Alongside hundreds of officers at the Kremlin were the widows of four Russian servicemen killed in action in Syria: a pilot of a Russian plane downed by Turkey, a marine killed on a mission to rescue the pilot's crewmate, a military adviser killed by shelling and a fourth man the circumstances of whose death haven't been revealed yet. In addition, officials said one soldier at the Russian base killed himself.
Putin said that a Russian- and U.S.-brokered cease-fire that began on Feb. 27 has now allowed Russia to reduce its military presence in Syria. The number of Russian air missions flown in Syria has dropped from 60-80 to 20-30 a day, meaning that some aircraft could be sent home, he said, without specifying how many warplanes will stay in Syria.
Putin said that Assad had been informed in advance about the Russian pullout and supported the decision.
Putin praised the Syrian president for what he described as his readiness to contribute to a peaceful settlement. "We have seen his restraint, a sincere striving for peace and readiness for compromise and dialogue," he said.
The Russian president voiced hope that the partial withdrawal of Russian forces from Syria would send an "important positive signal" and help Syria peace talks that began in Geneva on Monday.
While praising cooperation with the U.S. in negotiating the truce, Putin warned that the Russian military remaining in Syria would be ready to act against any groups that violate the cease-fire.
"If it becomes necessary, Russia is capable of building up its groups of forces in the region to the level required by the situation in literally a few hours and use our entire arsenal," he said. "We wouldn't like to do it ... and we count on common sense of all sides, on the Syrian authorities' and the opposition's adherence to the peace process."
Without naming any specific country, Putin said that "all interested nations have been warned" about Russia's intention to destroy any target that would threaten the Russian military and the fact that Russia also has helped beef up Syrian army's air defenses. The warning appeared directed at Turkey, which downed a Russian warplane at the Syrian border in November, and other nations, like Saudi Arabia, which mulled sending troops into Syria.
"No one has the right to violate the airspace of a sovereign country, Syria," he said.
He also said the Syrian army will press its offensive on Palmyra and drive out the IS forces controlling it, adding that Russia will continue offering all kinds of assistance to Assad's military.
"It includes financial aid, the deliveries of weapons and military gear, help in training, organization and teaming of Syrian armed forces, intelligence support, help in planning combat missions," he said, adding that Russia would also continue to provide direct air cover for the Syrian military.
(With AP inputs)